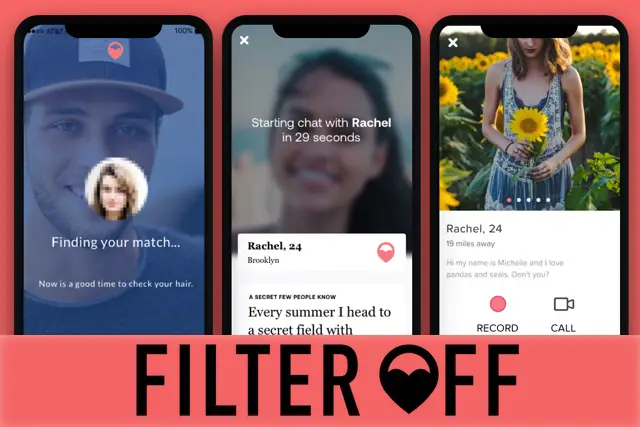 Though I — surprisingly! — met my boyfriend on Tinder, I spent the better part of my 20s single AF. I wanted to meet someone IRL, but felt as if I had to use dating apps to better my odds of matching. Even so, the most frustrating part of the swiping method was predicting chemistry. Sure, someone can select killer photos and write an intriguing bio — but how do you know if you'll connect with them? If they'll make you laugh? Or if you're attracted to them?
If I was still in the market for love, I'd definitely be giving a new dating app, Filter Off, a go, since it aims to cut out the digital guesswork of romance. Using a video-only experience, this download is only for those who are serious about a relationship. Here's what you need to know if this sounds up your alley.
After selling his popular dating blog TopRomp.com, Zach Schleien decided to come up with his own app concept. In an interview with Datezie, Schleien told us the inspiration for Filter Off came from the prevalence of catfishing in modern dating. Considering the average millennial spends ten hours a week on dating app, that's a lot of valuable minutes that could be toward creating a couplehood, rather than mindlessly swiping on a strange whose identify isn't verified. "You hear horrible stories of someone who goes on a date thinking they look a certain way but only to realize they look nothing like their profile photo," Schleien explains.
Since Filter Off is the first app that allows you to meet your match over live video, you remove any photo editing (or ahem, filter — get it?) — allowing you to see the person as they are, right now. Schleien believes this is the new era of digital romance. "Video chat has already changed how we use our phones to connect–from Facetime to Snapchat. It's time it changed dating too," he says.
So, how does it work? Schleien explains every evening you'll received a notification that your matches are starting. If you accept the prompt, you will go live on video and see someone face-to-face, much like a traditional date. You will have sixty seconds to 'meet' — and if you want to keep the convo going, you can decide when you'd like to meet up in person. You're limited to three unique dates for each speed dating session — but this makes for a more catered experience.
We know what you're thinking though: what if someone hops on your video chat that's creepy? (Ala Chat Roulette from a decade ago.) You can end the video instantly, report them and you'll be matched with a new person. Though this definitely can happen — Filter Off is working to screen folks before they make it into the rotation.
Right now, Filter Off is available in New York City and has 1,000 users — but we suspect this app will grow leaps and bounds in 2019. After all, there are only so many 'Whats up' a single can receive on a messaging app before they burnout. Filter-free, 100-percent genuine dating? Now that's something to get hyped about.