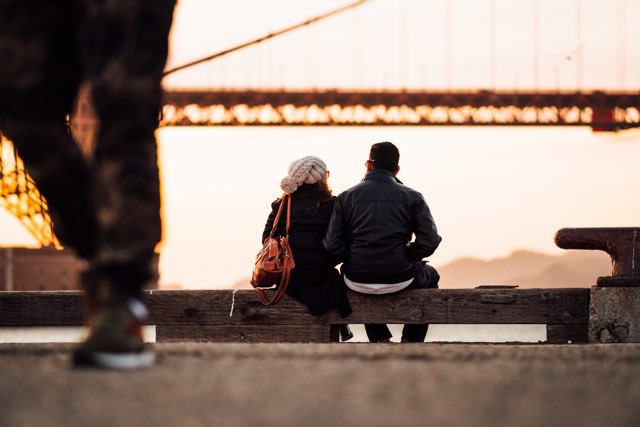 After what feels like an endless carousel of women who aren't quite right, meeting someone who could be the someone is exciting. And well, scary. Especially since most of the time, men are tasked with masterminding the first date, you want to make sure you get it right. Special ladies, after all, require special treatment — and if you're going to woo her, no detail can go unnoticed. Before you start to wrestle your worries and fret over what to do, what to wear and what to talk about — take a deep breath and pour yourself a tall one. We have everything you need to know about the first date — from prepping to wowing — and all that comes between. The next time you finally swipe right on a remarkable match, consider this your step-by-step guide to a first date.
Planning the First Date
No matter how you met your date — on or offline — it's important to connect with her the day before you're scheduled to meet. Not only does this give you an opportunity to express how excited you are to finally meet her for the first time or see her again, but you can clear up any lingering questions about where you're doing and what you're doing. Relationship and sexpert Coleen Singer suggest having a phone chat to firm up the time, the location, and if you're arriving together or separately. Though it is a romantic, gentlemanly gesture to pick your girl for the occasion, Singer recommends against it, just in case it doesn't go well. You never want to be stranded — or have your date feel stuck — when a could-be amazing evening turns into an awkward one.
If you want to go the extra mile, online therapist Dr. Sarah Schewitz suggests asking your date about any dietary preferences or restrictions, as well as her favorite wine or cocktail. This way, if you're going to dinner or to a bar, you can ensure they have something she'll definitely enjoy. It's thoughtful — and it'll go a long way in helping her to remember your first (incredible) meeting.
Once you're confirmed the in's-and-out's with your match, confirm any and all reservations. Check the weather if you're doing something outdoors — and have a plan B, in case it rains. Most women will appreciate how much effort and consideration you put into the night, boding well for a date two, if you want one.
What to Wear On the First Date
Most of the time, it's women who get a bad rap for taking forever to get ready for a first date — but the truth is, men double-guess their fashion choices, too. Or at least you should, if you want to appear put together, mature and manicured for your first date. Los Angeles-based psychologist Dr. Yvonne Thomas, Ph.D. shares too often men don't give themselves enough wiggle room to get ready — and end up feeling rushed out the door. She suggests giving yourself plenty of time for grooming and shaving so you don't start your date in a panic.
So, what should you wear? It all depends on the setting, since what you'd sport for a picnic isn't what you'd choose for a cocktail bar — but the most important rule of thumb to follow is picking something that's hands-down, 100-percent, you. "When getting ready right before the first date, wear something you feel comfortable in and that is appropriate for the date. By doing so, this can help you feel more emotionally comfortable and boost your self-confidence," Dr. Thomas explains. For a finer establishment, pick some slacks and a jacket. If you're browsing through an outdoor market and grabbing a beer after, classy shorts are okay — but skip the tattered t-shirt you've had for decades.
Dr. Schewitz also has a special request for men if they're wearing a button-down or another piece of fabric that requires TLC: iron. There's nothing less attractive than someone showing up, looking as if they rolled out of bed or merely pulled something random out of a hamper. "It's always nice to see someone putting in effort to look their best for you and hopefully your date will have done the same," she adds.
What to Do On A First Date
There are plenty of options for a first date, and they're all dependent on your location, the weather and of course, the two people mingling. One of the most common and popular options is sharing a drink or a meal together, according to Singer. This is because a restaurant is a great place for casual conversation in a public space, where everyone feels more at ease. The key here is not to pick something that's overly expensive — or crowded. After all, if you're investing your time, energy, hopes — and ahem, dollars — you don't want to be shouting over other folks to talk. "Choose a location that is quiet enough you won't have trouble hearing each other and with enough privacy that the people around you won't hear your potentially awkward first date conversation," Dr. Schewitz says.
Though every woman will have a preference over how the check is handled, even in modern days, most still appreciate the gesture of the guy subtly sliding his credit card down. However, it isn't enough to only pay for it — you should also be respectful during the meal. Dr. Thomas explains first date etiquette (or frankly, any time you're dining with someone) is to wait for her to receive her food before you start eating. You don't want to come across as selfish or impolite. "If the other person insists you start eating without him or her, it is your choice if you want to begin eating or wait until both of you have gotten your food," she continues. "Remember that since you two have never met before, neither of you will know how well-mannered and well-intentioned the other is. So, be cognizant of your etiquette."  
If you'd prefer not to go the tried-and-true route, Dr. Thomas suggests choosing an active date that involves something you learned about her, or something you both love to do. Hopefully this will give you an instant connection, and perhaps, make those first few minutes less shaky. "By participating in a shared activity of interest, it can serve as an 'icebreaker' and provide a more light-hearted, relaxed way of getting to know each other," she explains.
What Not to Do On a First Date
If you want to continue to follow first date etiquette, there are a few mishaps you should avoid — especially if you don't want her sneaking to the bathroom to text her friends about the 'jerk' she's having to stomach. As Singer puts it, all of those things you learned in kindergarten apply here. "Be polite. Don't use foul language. Keep your elbows off of the dining table. Chew with your mouth closed," she urges.
And even though most jobs expect around-the-clock availability, on a first date, you should ensure your calendar is cleared and your attention is fully devoted to the gal sitting across from you. If for whatever reason you have a hectic week and you can't turn off your phone, Singer says it's better to reschedule your first meet-up, since someone more interested in their iPhone isn't an appealing potential partner. "Nothing can be so annoying as having a date that is constantly checking his/her phone," she continues. "Turn the ringer off and just have vibrate on with screen notifications that you can discreetly check when you go to the bathroom."
Questions to Ask On a First Date
More than anything, a first date is an opportunity to size up your match. But that isn't just giving her body a one-over — you want to understand what makes her tick, what makes her different and what makes the two of you compatible. This means you should be proactive in the getting-to-know-you process and come prepared with a handful of questions. These are the the ones recommended by Dr. Schewitz, who notes these get to the heart of who she is, while still remaining appropriate, since hey, you're technically strangers:
Start with the questions everyone asks:
-Where did you grow up?
-Do you have any siblings?
-What do you do for a living?
Then take it a step further by digging deep and meaningful:
-Where do you see see yourself in five years?
-What are your top values and priorities?
-What is your favorite place to travel?
-What are your top three goals in life?
What to Talk About On the First Date
While apparently there are 36 questions that lead to love, and 21 Question is, in fact, a game — you can't just interrogate your match the whole time. Instead, you should let the conversation flow nice and easy, and contribute your thoughts and opinions too. Singer says if you're both passionate about your careers, it's a good time to really explain how you got to where you are — and where you hope to be. This usually leads to a natural segway into your hobbies and your interests, as well as how you spend your idle time when you are lucky to have it. When your date is detailing an important story or something that's sensitive, listen intently. A man (or really, anyone) who values her dreams and her goals, as well as who she is, will stand out in every woman's playbook.
There are also some things you should definitely not talk about on your date — and one of those is relationships that ended. "Past ones generally failed, so you will simply sound whiny and needy and turn your date off. No one wants their date to bring in old baggage, so best not to go there at this point," Singer adds.
Should You Kiss On the First Date?
While every man would love a fool-proof guide to reading a woman's body language and knowing exactly what she wants (and when she wants it) — kissing on a first date is always a tricky situation. On one hand, there's nothing more electric than the moment your lips touch after lots of verbal foreplay. But on the other, the idea of her potentially pulling away is enough to make your heart race and your palms sweat. If you feel like you have a spark, the chemistry is vibing and she's giving you the 'come hither' signals, Dr. Schewitz says, well, go for it, buddy. "Everyone has a different opinion about this but for the most part, if both people are feeling connected and had a good time, I feel it's appropriate to lean in for a kiss," she shares. "If you're feeling really connected, you might even do that on the date rather than waiting until the end of the night."
If you're not that bold, wait until you're about to part ways and then see how she acts. The way she approaches you and the 'goodbye' conversation can say a lot. "If she quickly goes in for a hug at the end of the night, she might be trying to avoid a kiss. If she just stops talking and stares at you, she is wondering if you're going to kiss her and probably hoping you will," Dr. Schewitz shares.
How to End the First Date
While an amazing first date feels as if you could go on forever — it's actually better to end the date after a few hours, so you leave more the the imagination. That initial buzz of a budding relationship is something you won't get back once you start dating, so try to capitalize on it as much as you can. If you were at a restaurant and the check is brought your way, Singer says it's a natural time to figure out your transition. Will you part ways now — or are you both having so much fun, you'd like to have an extra drink at a nearby bar for a nightcap? Unfortunately, if it didn't go quite as well as expected, you can use this as an opportunity to cut out early.
What you say here is essential — since every woman will go over and over your words in her head once you've let one another. "At the very least, you can let the other person know you enjoyed meeting him or her. You don't have to commit to seeing or talking to him or her again if you don't want to," Dr. Thomas explains. "If you're interested in seeing that person again, you can be open about that even if you can't tell if that person is interested in you.  For example, you can tell him or her you had a great time and enjoyed spending time getting to know him or her, which is a direct, yet general enough way to let he or she know you'd like to get together again. Then, it is up to that person to let you know if the interest is mutual."
Now that you're prepared with the step-by-step guide to a first date, it's time to find your girl! Tell us about the best first date you've been on in our comments.
Anxious about going on your first date? Be sure to also check out our Modern Answers to All Your First Date Questions and How to Prepare For Your First Date