Our Rating
Pros/Cons From the Experts
Fast Facts
Pros

Mature crowd.

Thorough, robust profiles.

Better conversation.

Cons

Expensive.

Photos are tricky.

Tech is lacking.

Number of Members: Over 13 million globally, 5 million in the US, 900K active weekly
Founded: 2008
Countries Available: Twenty countries worldwide, including United States, United Kingdom, Ireland, Australia, New Zealand, Canada and South Africa, among others.
Men/Women Ratio: More than 50 percent women, as of 2020.
Price: Basic account is free, 3-month membership for $59.95/month, 6-months for $44.95/month and 12-month for $31.95/month



Ask anyone who has been single for more than a year (or frankly, even six months), and they'll be quick to tell you about the fatigue they feel with swiping apps. While Tinder, Bumble and the whole gamut can be an effective way to connect to countless matches, they can also begin to feel more like video games, and less like looking for love. One dating destination that is taking connections serious is Elite Singles, which has been pairing people together for a decade. They use what they refer to as a 'Five Factor' personality test to get to the core of what matters the most to you and what you seek in a potential life-long partner. They also screen and approve each photo you upload, ensuring you are putting your best face forward to suitors. With all of this diligence and investment, it makes sense why most of Elite Singles members are 30 years old or older, making it less of a spot for hookups, and more for those hoping to get married.
If you're interested in giving this option a try—because hey, why not?—consider this your everything-you-need-to-know Elite Singles review:
How to Sign Up To Elite Singles
Don't let the name fool you—you don't have to check off any requirements to join Elite Singles. Though it might seem as if you need to have a certain education level or be of a particular status, anyone can join by visiting their website. While Elite Singles does offer apps, it seems they're currently being updated in the iTunes store and Google Play, so the only way to join is via desktop at the moment. After choosing your sex and your sexual orientation, you'll be asked to give your email address and begin creating your profile. Word of caution here: you could need up to 1 hour to finish your Elite Singles profile, since their personality test is lengthy and detailed. Pour yourself something strong (and perhaps, alcoholic) and get vulnerable. After all, if you want to meet someone who could be your match, authenticity is key. 
What to Expect With Elite Singles
Like with anything new and unfamiliar, there are many unknowns going into Elite Singles. Especially if you've been on various apps and digital hubs for a while, it's easy to get frustrated when yet another place doesn't deliver the love of your life. Take a deep breath, and allow sex and relationships therapist Courtney Geter, LMFT, CST set your expectations.
Pro

: A mature crowd and lots of matching options.

Elite singles claims to be the dating site for mature professionals and they have user data to back that up: over 90% of users are over the age of 30, and 82% have a university degree.

Once you've made it through your profile set-up (congrats!), Geter explains you have the option to choose how you'll receive matches. The most popular one is 'daily matches', which Geter says is beneficial for busy, overbooked professionals who don't have time to scroll through endless profiles. This makes it easy to check in in the evening and see who might be within your area and looking for the same kind of relationship you are. You can also take a peek at your visitors to see if anyone who stopped by your profile might be mutually interesting.

Geter also notes Elite Singles allows you to see who is a tad out of your matching criteria—whether due to age, location or other preferences. They call this the 'Have you met…" feature, which challenges users to budge a bit on what they first consider as demographic dealbreakers. "A person may be a good personality fit though outside of your distance or age preference. You are still able to view this person and decide if there is flexibility in your criteria," Geter explains.
Pro

: Photos are reviewed.

As Geter went through the sign-up process, she was asked to upload three images. Of these, Elite Singles chooses one that is approved for your profile picture. This is meant to prevent any images where you can't clearly see a user's face, and according to Geter is a beneficial practice for singles. "This is a plus as it does eliminate photos where you can't clearly see a person's face or the person is not in the photo at all. In today's online dating world, many daters becomes wary when a person does not post a photo, since it comes across that the person is hiding something such as current relationship," she explains. "Not showing your face shows one is not willing to be transparent when transparency is very important in building relationships." Though Geter did stumble across a few profile photos where a person's face was somewhat obstructed (say, with a ski helmet, for instance), and some group photos, generally speaking, it was better than other sites.
Pro

: Conversations feel more genuine.

The best part of Elite Singles? Exactly what you would want it to be: interesting and frequent conversations. Geter says compared to other websites, she has found a more positive bantering with matches. "The conversations have been engaging and about shared interests or topics. I have not had anyone send a sexually explicit message or immediately ask about 'hooking up,'" she continues. "I have also not been bombarded with many messages at once, which could make the experience overwhelming for some."
Con

: Some photo requirements are lacking.

Have you ever been swiping away and you think you've found someone attractive but you can't tell if it is his or her profile… or someone else? Geter isn't a fan of the group photos Elite Singles allows, or how they don't require descriptions on photos. Any type of background can lead to conversation or clear up confusion. "If one were to see a match in a situation with another person it was labeled 'family member at friend's wedding,' then it is clear there is no intimate relationship vs just seeing this potential match with someone who could or could have been an intimate partner," she explains. "I always recommend that pictures where there could be confusion about who you are with are labeled."
Con

: You have to pay to send messages.

While there is a free account, if you wish to engage with a fellow single, you'll have to chalk up the change. When you first get started, you are allowed an introductory period to understand the premium features, but it's limited and might not allow you enough time to see if it's worth investing your heart and wallet in. "Many single people are wary of dating sites and paying money up front without knowing what to expect from the site or app," Geter explains. "Although a paid membership may encourage more serious daters, Elite Singles costs might also eliminate daters who are anxious or hesitant though may be good matches for premium members."
Con

: Technology is lacking.

Considering Elite Singles has been on the market for a decade, it's surprising their technology hasn't evolved greatly over time. Not only are their apps currently offline and not available to download, but their website is finicky and unpredictable, and can take a long time to load. While navigating the site is second-nature, there are vast improvements that should be made to make it a true competitor in the space.
Elite Singles Review: What Users Are Saying
Before you schedule a block on your calendar to create your profile, here's what real Elite Single users are raving (and ahem, complaining) about:
"App only accepts portrait photos and crops landscape photos badly and does not display photo comments unless viewed via a web browser. For the majority of mobile users today this app is far from today's expectations. Don't waste your money."
"
This was my first try at online dating and overall it was a good experience. I have met several men through Elite Singles and am currently dating one of them now. I was hesitant at first as my girl friends have used other dating services with mixed results. They complained about scammers and the poor choice in men. I think you will find them on all services just like in real life."
"I joined EliteSingles after deciding it was time to get serious and find someone that I would want to commit to. I had been very career focused since my early 30's and I didn't really have time for a relationship, so I was just casually dating here and there. When I turned 38 I decided to check out various online dating sites, but on most I found I wasn't really connecting with the women. I really appreciate a sharp mind, so when I saw EliteSingles had a high proportion of highly educated singles, I decided to give it a go. I matched with a number of women in the first few weeks and after chatting with a few, I realised one was very similar to me and we organised to meet up. On our first date we chatted for 4 hours about anything and everything and really 'clicked'. We've been dating for 18 months and on our overseas holiday next month I plan to propose!"
Tips For Success On Elite Singles
Up for trying a new dating site? Before you get started, take these tips to heart. You can find love online, but sometimes, you might need to be a bit strategic.
Be honest about what you want.
Elite Singles is for an older crowd, and one that is less about friends-with-benefits and more about happily-ever-after. Because of the financial requirement involved, you can expect users to talk more seriously and openly from the get-go. If this isn't something you're comfortable with or looking for, it might not be for you. If it is, don't rush through the personality assessment. You can't go back and change your answers once you sign up, so be true and honest so you'll find those who are on your same page.
Choose photos wisely.
Geter always recommends choosing images that put your best self forward and show your interests and passions. Avoid any sort of group shot, or any image that is outdated more than two years. One image should show your (gorgeous or handsome) face, and others can illustrate what matters to you, from hiking to traveling and beyond. While words and compatibility matter, photos is what draws in matches first.
Visit Elite Singles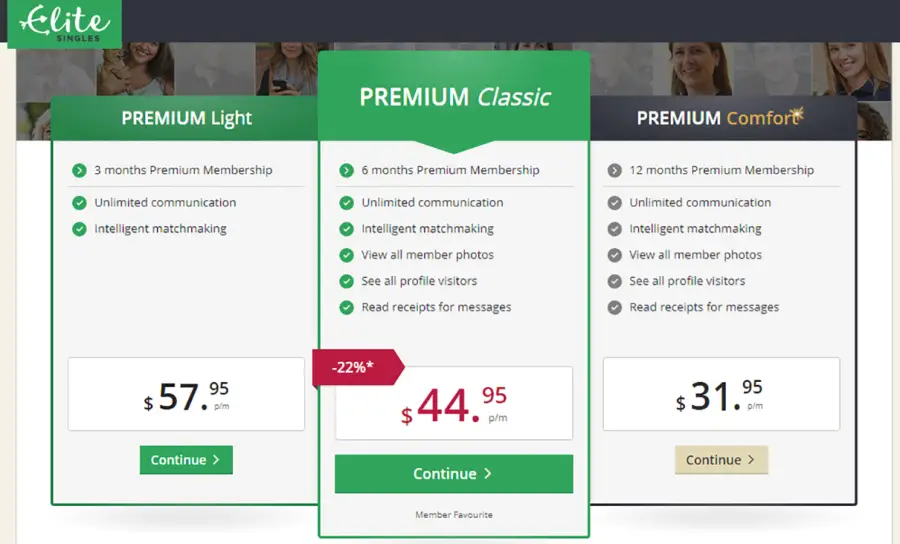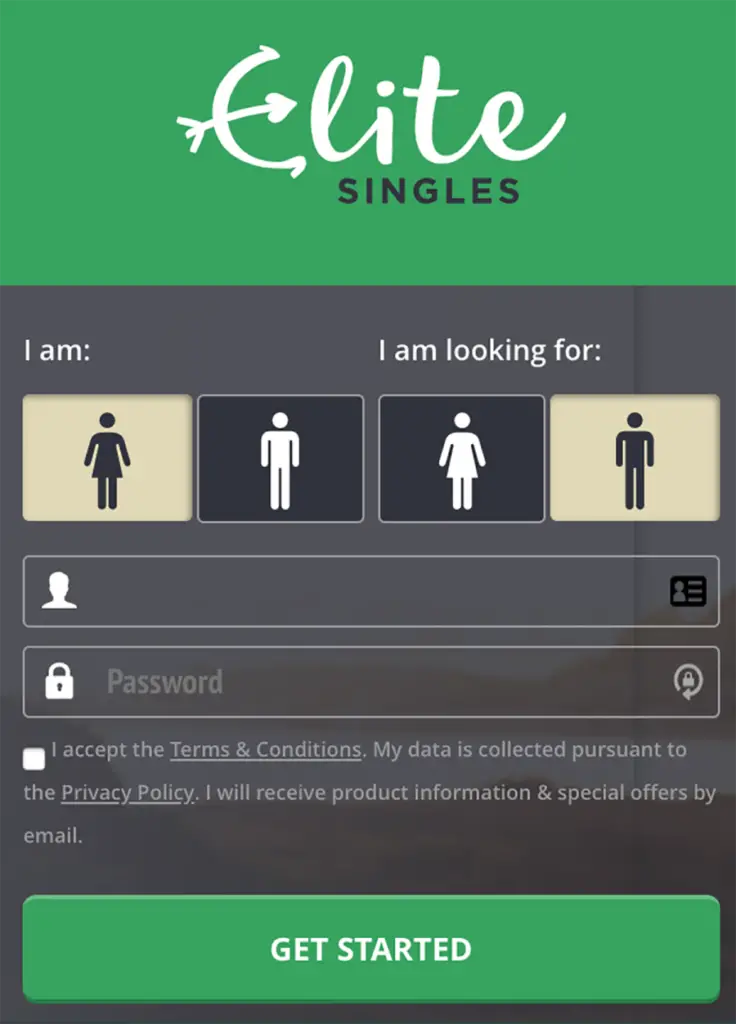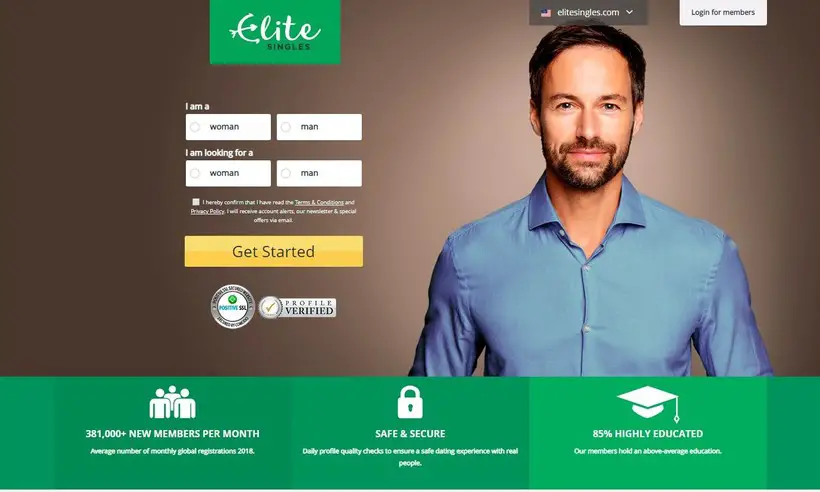 Datezie may receive a portion of revenue if you click a link in this article and buy a service or product. The links are independently placed by our Commerce team and do not influence editorial content. To find out more, please read our terms of use.