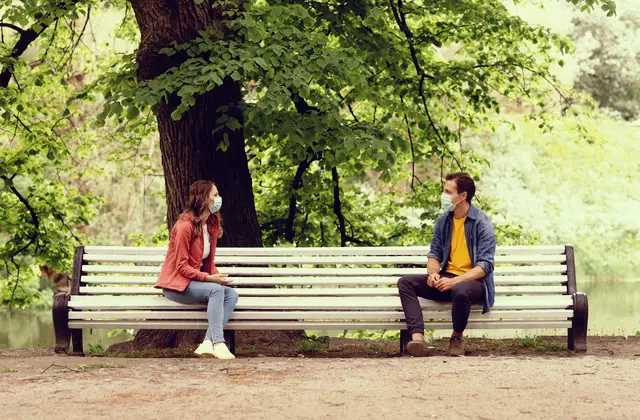 Aside from the occasional virtual date or outdoor meetup, most singles have spent the last year waiting for the day that they could safely date again. As vaccination numbers increase and COVID-19 cases plummet, singles are eager for their "hot vax summer" or "shot girl summer" — but many are still struggling to come to terms with the idea of, ya know, hanging out with strangers again. 
In fact, if you feel any hesitation toward dating in this new normal, you're not alone. Logan Ury, director of relationship science for Hinge, revealed that 51% of Hinge users feel the exact same way, which he coined as FODA, or the fear of dating again.  
"A lot of people were telling us that … while there was a huge emphasis on wanting to find love and find a partner, there was also a lot of hesitation, and that hesitation came down to the fact that people feel like their dating skills are rusty, their social skills are rusty," Ury told TODAY. "And of course there's also fears around COVID precautions in general."
Other popular dating apps like OkCupid are reporting similar findings. Of all the daters on OkCupid 86% are looking forward to in-person dates after the pandemic, but they'll continue to remain very cautious until that time comes. "What we're seeing amongst our users is that people are really nervous for that first date, " Michael Kaye, a senior public relations manager for OkCupid, told TODAY.
That's why virtual dating is more important than ever. For anyone hoping to dip their toes back into the dating world, start by video chatting with your matches. And while you're at it, don't be afraid to be upfront about your wants and needs, especially as it pertains to coronavirus. Select dating apps, like OkCupid and Coffee Meets Bagel, let you declare your vaccination status on your profile, but if the app of your choice doesn't, feel free to come right out and ask your match if they have been vaccinated yet. Being upfront about where you stand will help you out in the long-run: On OkCupid, people in the United States who answer "yes" to "Will you get the Covid-19 vaccine?" are receiving 20% more Likes and 12% more Matches, according to data from earlier this year. 
Chances are, one of your future dating app matches is experiencing FODA in one way or another. As you get back out there, keep your comfort level in mind and make date suggestions that are in line with your current feelings. It may help to know that OkCupid also found that their users are saying that their "ideal post-pandemic date is literally anything outdoors." That's a good place to start, don't ya think?