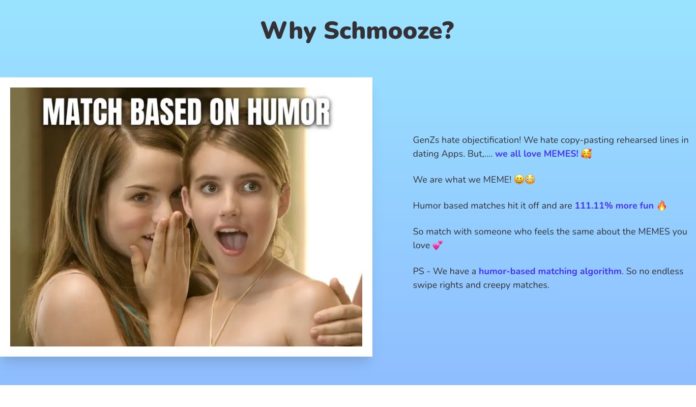 Dating apps do everything they possibly can to get people to show their true colors. On some of today's most popular apps, you'll find fun prompts to get the conversation rolling ("topics to debate" on Hinge, for example) and carousel features that let you show a mix of photos and videos (your good side, your even better side and everything in between). But for some, this still doesn't do the trick. If humor is the way to your heart, then it can be hard to know if someone matches your funny bone based on their perfectly curated profile, which, let's face it, has been analyzed a million times by all of the most important people in their life. 
Enter Schmooze, a dating app that uses memes to connect singles based on a "humor algorithm" (their words, not ours).  How many times has your best friend sent you a meme that perfectly describes your *insert specific situation here*? Schmooze uses a similar approach, encouraging users to "swipe memes, not people." Unlike other dating apps focused solely on witty prompts and flirty photos, Schmooze users swipe left or right on — you guessed it — memes. There's something for everyone: On Schmooze, you'll find everything from finance-based memes that may go right over your head to the latest craze in pop culture (finally someone to share your TikTok obsession with). As you swipe right on certain memes, Schmooze will adjust your algorithm to best meet your humor level — and hopefully find you a match in the process.
Here's the thing: Schmooze is still in it's beta stage, so it's too new to tell if it really works. According to TechCrunch,The beta test launched last summer with 200 Stanford students and to date, the app has more than 10,000 downloads across the country with people with more than 5,000 (and growing!) memes to swipe through. The numbers continue to deliver: At this point, 90,000 matches have been made, but only a small number have moved forward with in-app messaging. And hey, even if it doesn't lead to true love, at least it'll give you a solid laugh or two, which is a rarity on dating apps these days. 
Curious to see if memes lead to love? You can download Schmooze for free right now on the App store and Google Play to see what it's all about. Keep in mind that you may initially have a small pool of singles to pick from, but luckily, there are plenty (thousands, actually) of memes to go 'round (a.k.a. hours of free entertainment…)