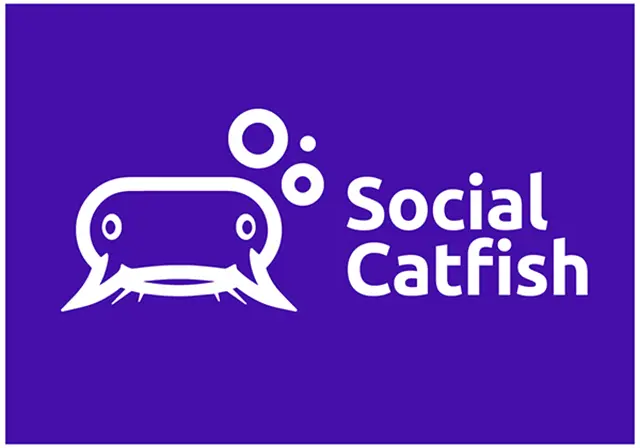 Catfishing, as active daters to know—is an all-too-common problem. Start building a relationship with someone online, only to find out that they are not who they said they were. At a minimum, it's frustrating and and at the extreme–catfishing is downright dangerous.
But from adversity comes opportunity–and companies that come to fill the void with a product. Social catfish is one of the few services that can help identify catfishing online and make your dating experience safer and less frustrating.
We've done an in-depth analysis on the identity of Social Catfish…and they are the real deal. Here is our Social Catfish review :
What is Social Catfish?
Social Catfish is a California-based online dating investigation service that allows you to verify if the people you meet online are who they say they are. The company first began as a blog site dedicated to uncovering online dating scams, and in fact they still have lots of great free resources on the various scams that have been run on different dating services. The Identify verification service that they offer is in-demand and the company has been growing quickly: inc. 5000 named Social Catfish as the 118th fastest growing company in the U.S., and over the last three years the company has grown by 766%.
Social Catfish Review: Pros and Cons
Pro: it's super easy to use
Pro: It can search identities in a bunch of ways and it works
Pro: Results are delivered quickly
Con: Searches can sometimes fail or glitch out
Con: You need to pay to get access to full information
Social Catfish-Our Rating
| | |
| --- | --- |
| | |
| Social Catfish Ease of Use | |
| | |
| Social Catfish Overall Cost | |
Social Catfish Pricing
The prices for Social Catfish vary based on the services that you require, but generally speaking there is one tier of costs for leveraging the online service yourself (either social or image searches) and another entirely different tier for enlisting the help of a Social Catfish Search Specialist
| Service Type | Social Catfish Costs |
| --- | --- |
| Social Searches | $5.73/5 Days, then $27.48 per month |
| Image Searches | $5.99/5 Days, then $26.99 per month |
| Search Specialist | A one time fee of $397 |
How Social Catfish Works
Social Catfish can do searches based on Reverse Name Search, Address Lookup (note that it seems only U.S. addresses are supported at this time), Reverse Image Lookup, Phone Lookup, Email Lookup and Username Lookup.
User's begin a reverse-name search entering a name and country of origin. Once entered, the user also also has the option to narrow down results to a specific age group: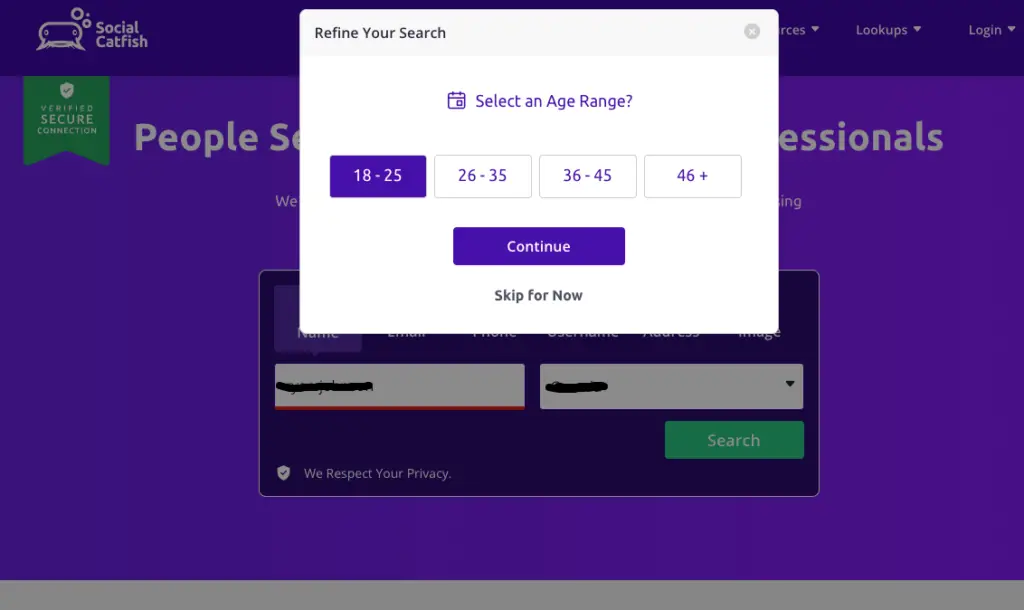 Once information is entered Social Catfish goes through government  and educational data, news articles, professional records, public databases to find a match. 
From this initial search, Social Catfish will pull a list of online profiles with different data points, including the city and country the person hails from, gender, web usernames, account ID's and possible associates: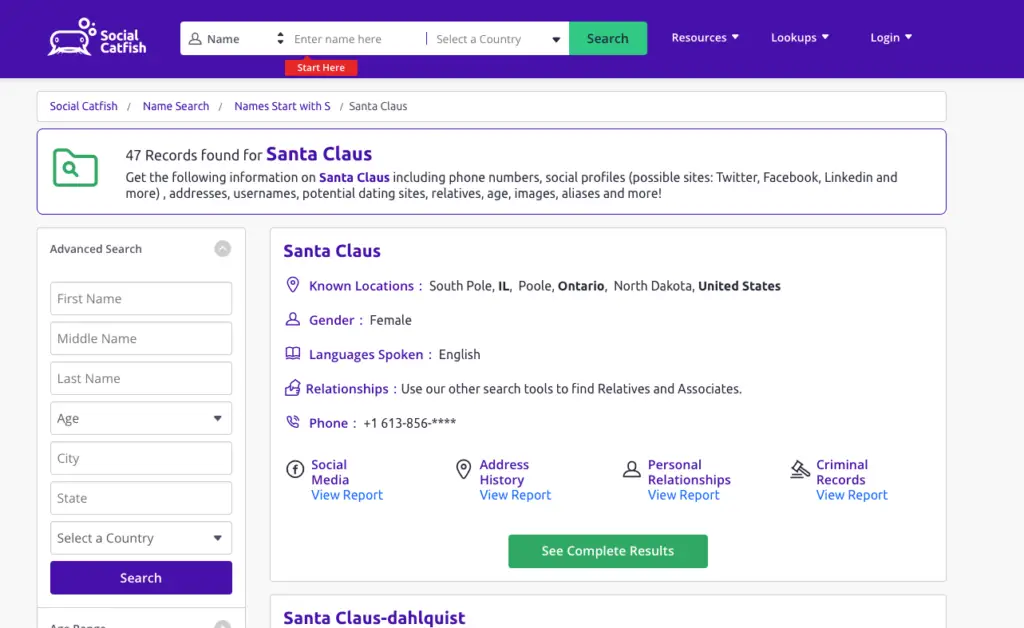 As you can see, the initial data revealed is limited. For example, you won't see full usernames and account IDs, so you can't quickly understand everything there is to know about the people appearing in your search. At this stage you can access further information by requesting "Complete Results", and this next level of search goes through chat apps, social media, dating sites and dating apps. When this report is ready, it reveals instances (count) of names the individual in question has used on the internet, as well as emails, addresses, different phone numbers, Usernames, Relationships, Social Profiles, Bankruptcies, Legal Judgements, Liens, Professional Licenses and Possible Criminal activity: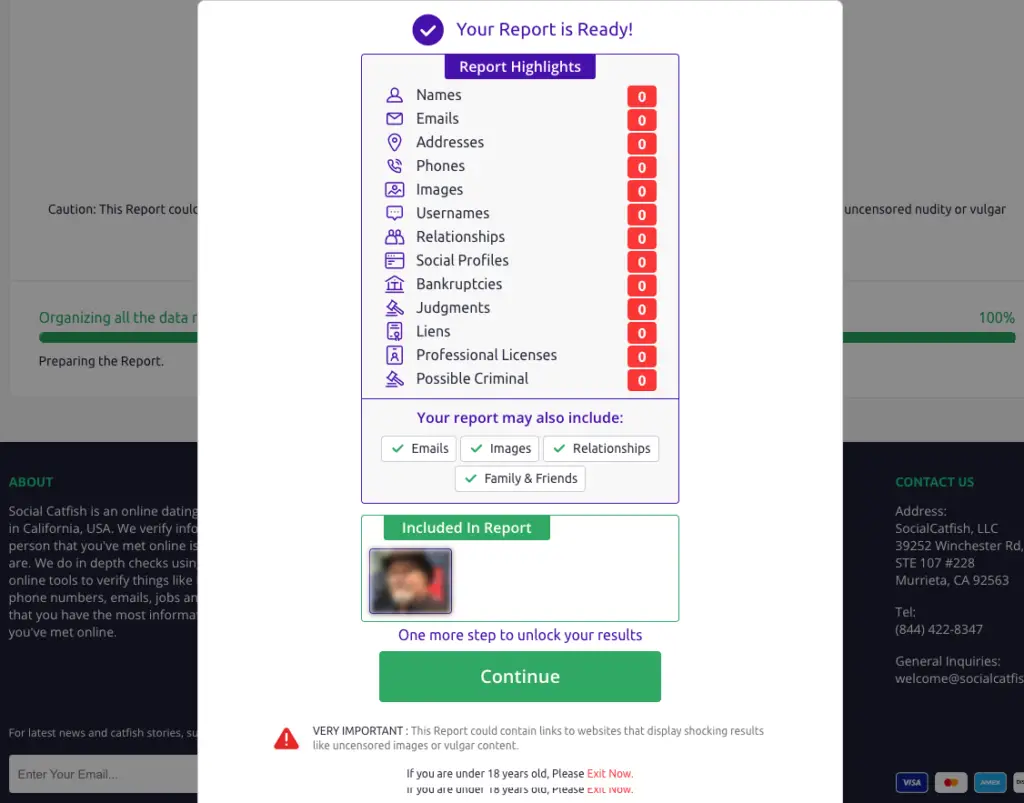 Keep in mind that while some of this data is available for free, Social Catfish's services are paid. To download the full report, you will need to sign up:
How Social Catfish Search Specialists Work
If you suspect you are being catfished and if do-it-yourself searches won't cut it, you have the option of hiring a search specialist. Search specialists leverage thousands of sources of public data and according to Social Catfish, use the same tech and software used by the FBI.
Search specialists are an investment (a one time fee of $397) but depending on your situation, definitely worthwhile. Being catfished costs you time, potentially lots of money and emotional well-being
Remember that Social Catfish can check the identity of a date or it can be used to verify the identity of businesses.
Social Catfish-FAQ
Is Social Catfish Legit?

Yes, as we've covered in this Social Catfish revew–it is real and it's effective. Searches are multi-faceted and in-depth, and they are experts on dating sites scams (Social Catfish started as a blog about dating scams).

Is Social Catfish free?

It's free to do a basic search, but when you want access to detailed information, you will need to pay (see our Social Catfish pricing table above)

Is Social Catfish safe?

Social Catfish is all about safety. it's a company built on trying to ensure that dating site users know they are connecting with real people online

How can I cancel Social Catfish?

Yes you can cancel Social Catfish, but it will require you contacting customer service, there is no automated option to cancel

Does Social Catfish Work?

Social Catfish verifies identities of people online though names, email addresses, physical addresses, phone numbers, usernames and images.

Does Social Catfish have any competitors? Are there alternatives to Social Catfish?

Yes, there are a few notable competitors to Social Catfish to potentially explore, some of which are more general identity-checking sites vs specialized for dating. The most notable competitors are services like TruthFinder, Intelius and Peoplelooker.