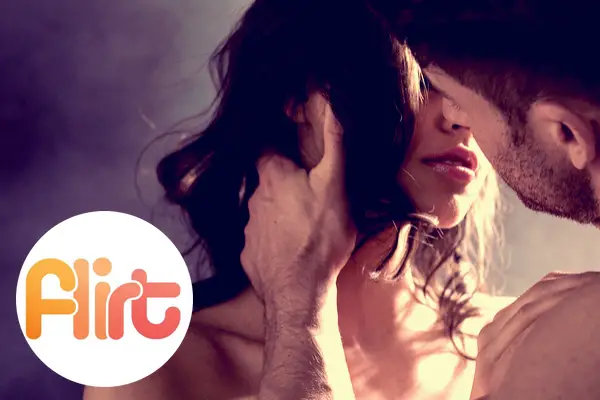 Our Rating
Pros/Cons From the Experts
Fast Facts
Pros

Number of Members: Over 1 Million
Founded: 2009
Countries Available: Over forty five countries, and available in 20 languages.
Men/Women Ratio: 

No official number released.

Price: Free for women, but men have to upgrade to join featured chat rooms, with rates starting at $35/month.
While some people are looking for the real-deal, others are more in the market for the wham-bam-thank-you-m'aam connection. There's no right way to fulfill you romantic pursuits, but if you would like a casual encounter that stays R-rated online or results in a friends-with-benefits set up, consider Flirt.com. As one of the originals of the hook-up dating sites and apps, it's estimated this destination has around a million users, all active and looking to ahem, become even more active. While you should set up realistic expectations on what you'll find on this dating app, expert, coach, speaker and author Anza Goodbar explains it's a way to dabble into the no-strings-attached culture, build your confidence after a breakup, or perhaps start a fling. "If you're just feeling flirty and aren't really interested in a long term connection, this site makes it easy to connect with little effort on your part. It is simple to sort through potential matches based on physical appearance to see if you want to make contact," she explains.
How to Sign Up
Much like the more traditional dating sites like Tinder or Bumble, Flirt.com has a quickie sign-up process (pun intended). Though they don't offer apps to download just yet, the site has a clean and straightforward set-up. You'll start by activating your account via email, then you will check through various questions that ask you to pick up a screen name and update your status (as in, what you're looking for in a few words). From here, Flirt.com wants to know about other tidbits, including where you're located, what age range you prefer to date within, your gender, and finally, you'll have to add a profile photo to complete your process. Goodbar says you can go a bit more in depth if you'd like, adding characteristics like piercings, smoking or drinking habits, or income, but they're optional and potentially not necessary. In terms of cost, women don't have to pay a membership fee, but they do have to verify their identity to enjoy the full site. Men on the other hand will be asked to upgrade if they want to access certain chat rooms, view more details on profiles and more add-ons. It could be worth the fee if you want to see more than one photo or videos, since those only come with a paid membership.
What to Expect With Flirt.com
No matter why you're intrigued by this casual dating site, you're definitely in for a surprise. From talking dirty to the freedom to express your kinks, here's what you will potentially like (and dislike) about Flirt.com.
Pro

: Excellent search functions.

Everyone is turned on by something different—while some like it hot, others prefer a slow burn that heats up. And you might want a buddy to travel with, or you want to butter each other with intimate flirting conversations about food. Whatever your style, sexpert at Sssh.com Erotic Entertainment for Women, Coleen Singer gives Flirt.com praise for their quality sorting functions. "You can search not just by age and location, but things as granular as tattoos and piercings, hair color and even favorite kinds of food and music. This very much facilitates being able to find people with similar interests and tastes and they can find you too," she raves.
Pro

: Real time group chat rooms.

If you remember those early-age of internet chat rooms on AOL or IRC, Singer says you may be pleasantly surprised with this Flirt.com that's a welcomed blast-from-the-past. This feature is available with an upgraded membership for men, and allows users to remain in the group setting, or take their flirtations privately. "It's easy and fun to find group chat on specific topics like music, movies and many other niche areas of interest," she explains. You can also use SMS (texting) to take it a step further, too.
Pro

: Real people – not fake bots.

Many hook-up centric sites are full of fake profiles, paid sex workers and other not-so-trustworthy scammers. However, Singer shares Flirt.com is a step above their competitors with plenty of real people—and few bots. She believes the site takes a proactive measure to keep the fakers from dialing in and tricking people into paying more, getting offline in questionable circumstances or waste their energy on someone who may or may not be a real human.
Con

: You have to pay to have any fun.

Of course, this goes for the guys only, but Singer says since it's a commercial service, they have to pay the bills, you can expect plenty of pop-ups to grade to the paid version of Flirt.com for a better experience. Though it's understandable, Singer says it can become cumbersome to searching and result in the internet version of 'blue balls' if you find someone you like, only to not be able to reach out to them in a meaningful way.
Con

: No mobile version.

Especially if you want to flirt on the go, the site doesn't make it easy to open an app, swipe away and sign off. Even without an app, you would hope they'd offer a mobile-friendly web version, but Singer says that isn't the case: "It is often necessary to scroll sideways to see the rest of pages that are hidden. Hopefully, they will release an app soon for iphone and android to take care of that situation," she notes. This could also prevent a younger crowd from joining, which could benefit the site in leaps and bounds.
Con

: It's tough to match.

Or rather, understand your level of compatibility, according to Goodbar. Generally speaking, most users only provide basic age, location and photo, so if you want an intellectually flirting conversation, you have to dig a big deeper. She also notes it seems to attract a low-brow crowd, and not so many professionals.
Flirt.com Review: What Users Are Saying
Truth be told, there are some negative reviews about Flirt.com. Even though some experts do speak highly of the site, users have been adamant about difficulties with refunds and finding fake profiles. However, some have found great success. It's important to read up on the fine print before you dive in, and to proceed with caution.
"
Adults enjoy Flirt.com as this site offers the opportunity for casual, fun, flirty exchanges. This site is designed for a younger crowd, rather than serious user, but many older members do use the site to look for serious relationships online."
"I have been a member for a couple of months. In my estimation, perhaps 10% are genuine, and of those who are genuine, not particularly desirable in my opinion. Save your money. Not sure it is worth the subscription, will not renew."
"Not bad. Not bad at all. Certainly not a scam site as some suggest, just takes time to get going with real chicks but then thats the same with all the top online sex search sites (hookuphangout.com, bn, etc). I'm giving it 3 stars because it could be better, especially in Idaho. But its certainly worth checking out if you've already tried hookup hangout. Cost is low too so no real risk like with other adult dating websites and apps. Enjoy."
Tips for Success
If you want to give Flirt.com a go, set yourself up for success by following a few basic tips of advice and wisdom from dating experts. These will not only improve your experience, but make it easier to find what you're looking for online.
Complete your profile.
Since one of the drawbacks of Flirt.com is the ability to find suitable matches beyond looks, Singer says it's important to spend time on your profile. Even if you're only looking for a one-night stand or an on-going hook-up situation, the more effort you put into your profile, the more stimulated you will be. "Be as specific as possible in describing yourself and interests so their smart technology can offer suggested matches for you," she adds.
Use a great face photo.
While one could argue all dating sites are rather visual, spending a bit more time on your photos will result in more attention, winks, likes and messages. Too often people discount the importance of a killer face photo and spend more effort on full-body or seductive shots. This is a miss, according to Singer, since a bright smile and an attractive image that shows off your handsome mug will grab attention.
Upload a video.
Sure, this is a paid membership option—but one that comes highly recommended by Singer. Because so much of connection is being in person, having a video that allows a user to see your mannerisms and hear your voice will help them pick you out of a big pool of singles. And hey, it's fun! "This is a rather unique feature and a very fun one to try out," she explains. "Have a friend take a short video of you riding a bike, water skiing or cooking and you'll attract a lot more possible matches."
Visit Flirt.com
Datezie may receive a portion of revenue if you click a link in this article and buy a service or product. The links are independently placed by our Commerce team and do not influence editorial content. To find out more, please read our terms of use.