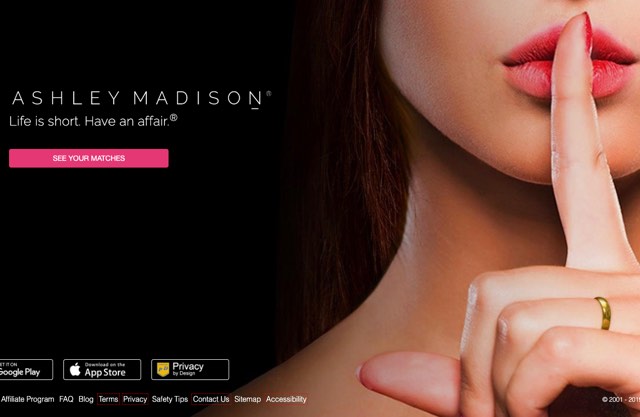 Our Rating
Pros/Cons From the Experts
Fast Facts



Number of Members:

60 million members as of 2019

Founded: 2002
Countries Available:

53 countries, including Canada, United States, and United Kingdom

Men/Women Ratio: 53% women, 47% men
Price: Free for women seeking men. Women seeking women and men seeking women or men can sign up for a free guest membership before committing to a credit package: 100 credits for $59, 500 credits for $169, or 1,000 credits for $289.  
All relationships aren't created equal. In fact, some need something — or even, someone — to spice things up. Enter Ashley Madison, a popular dating site geared toward the open-minded — or as some would say, desperate — by encouraging anyone in troubled, complacent, or sexless marriages to have an affair — no questions asked. Their tagline really sums it up best: "Life is short. Have an affair."
While you can turn to any dating or hookup site to explore your kinks like, say, open marriages, Ashley Madison follows a more discrete (but efficient) approach. They know that every relationship has different goal in mind, depending on if they are monogamous, polygamous, or in an open relationship, so Ashley Madison makes it easy to find exactly who and what you're looking for, no matter the specifics. Even though it's intent may be different than typical dating sites, Ashley Madison follows the same tried-and-true model. Once signed in, you can browse through profiles in your city or preferred zip code, and flirt away to your heart's content through winks, personalized messages, and virtual gifts. 
If you're looking to add more spice to your life, find out everything you need to know about Ashley Madison:
How to Sign Up on Ashley Madison
Ashley Madison makes it quick and easy to sign up, so you can get to the fun part ASAP. The entire process takes just 30 seconds from start to finish: To register for Ashley Madison, you must provide your current relationship status, along with your location, birth date, ethnicity, and email. Unlike other dating or hookup sites, you don't have to provide any further details for anonymity's sake, of course. To finish creating your profile, you must select a display picture. Because Ashley Madison keeps privacy top of mind, you have the option to blur out your face or add a mask to cover obvious areas. While you don't have to provide any payment details during the sign-up process, Ashley Madison requires a two-factor verification, so it's best to keep your phone handy to ensure a smooth sign-up process.
What to Expect from Ashley Madison
Especially if this is your first time seeking an affair, signing up and seeking out romance on Ashley Madison may sound overwhelming — and rightly so. Because the site focuses on a personalized experience, it's important to consider what you really want — a distraction, a relationship, full-on sex, you name it — before signing up. To get a better idea of what you're in for, read what you can expect: 
Pro

: Ashley Madison fits a specific void.

When it comes to affairs, no one does it better than Ashley Madison. While other dating apps and hookup sites may give you the option to specify if you're in an open relationship, it's hard to know the intentions of other users. Ashley Madison puts it all out there: You know exactly what you're getting and even, getting yourself into once you sign up. Even better, the other users won't question you or your intentions since there's a strong chance that they're looking for the same thing. 
Pro

: There's a specific feature for frequent travellers

If you spend a lot of your time away from home, then you can turn on the "Traveling Man" feature. It lets you find people nearby, so you can enjoy a one-night fling or build a budding romance miles away. But to really get the most out of it, opt for Golden Status to get a bigger pool of nearby matches and have your profile featured on top of other's lists. Great for a finding a home away from home, don't ya think?
Pro

: Most women can enjoy all the benefits without paying a dime.

It pays to be a woman on Ashley Madison — but actually. If you're a woman seeking a man, then you can sign up and use all of the site's features for free. Men, on the other hand, have to buy credits to get full-access to profiles and messaging features. The one downside: Women seeking women aren't given the same privileges, which means they also have to pay up for complete access — a little unfair, no?
Con

: It has a questionable reputation, in part due to a massive data breach in 2015.

In an effort to keep their anonymity, users have always kept quiet about Ashley Madison. Let's face it, revealing that you're having an affair thanks to Ashley Madison would totally blow your cover. But still, the site remains incredibly popular and well-known, even though it has a fairly negative reputation. In 2015, the site was hacked, exposing more than 60 gigabytes of company data — yep, names, emails, everything. Since this information breach, Ashley Madison has employed greater security measures, including two-factor verification and an added level of security to the backend. Still, it's still not risk averse. 
Con

: There isn't a monthly subscription model.

Most dating sites offer a tiered subscription model, but Ashley Model opts for the credit system. Starting as low as $59, you can buy credits that can be put toward messaging, winking, or sending virtual gifts. Some users, however, complain that the credits go quickly, so it ends up being more expensive than traditional membership plans. For example, it costs 5 credits for initial contact, and 30 credits for 30 minutes of instant messaging — that's roughly $20 right there. 
Con

: The vetting process is suspect.

Try as they might, Ashley Madison is still riddled with bots, spam accounts, and catfishers. Because the website doesn't require as many details during the sign-up process, there's a higher chance that some of these faulty profiles will sneak through the cracks. But if you want to make the most out of Ashley Madison, it's worth it to use your credits on Priority Man. With this feature, you can send priority messages, be bumped to the top of someone else's inbox, and up your chances of getting noticed. Altogether, this shows others that you're the real deal, and tells you what you should be looking for when scrolling through the site.
What Users Are Saying About Ashley Madison
"As a woman, I love it! I can enjoy the partner(s) I want. FYI, I am not a sugarbaby or sugarmama … I jus enjoy good clean sex."
"I paid a total of $400 to be able to send and open messages. After sending literally dozens of messages, the only responses I received were from prostitutes or scammers looking for money. Complete waste of money!"
"I sent out somewhere in the ballpark of 25+ messages. I only got one response but we're still together after a year and a half. We're completely in love and are completely dedicated to one another."
Tips for Success on Ashley Madison
If you're ready to test the waters and see what else is out there, get ready for a wild time on Ashley Madison. To get the most for your money, follow these expert-approved tips:
Know what you're getting yourself into.
Let's be clear: Ashley Madison isn't strictly a dating or hookup site; it's far more complex. Before you sign up, it's best to decide if you're really ready to get involved in an extramarital affair because once you're on the site, it's all systems go. Also, make sure to decide what you want to get out of the site — some sweet talk, sexy flings, or full-fledged relationships — to ensure that you're upfront with other users at the very start. 
Be open-minded.
While it's smart to go in with a goal in mind, you also don't want to limit the possibilities by narrowing your pool of potential affairs. Let's face it, if you made a profile on Ashley Madison, you're clearly ready to take a risk, so go for it. You can tailor your experience to best fit your needs, desirese, or lust, whether it's to satisfy your BDSM urges or to make your daydreams about having sex with the same gender a (steamy) reality. Who knows, along the way you may discover something new about yourself…
Keep things as anonymous as possible.
Because affairs are, well, complicated. Some things are better left under wraps — and affairs definitely fit in that category. To protect yourself, your family, and any business dealings, opt for a blurred profile picture and as few details as possible. Then make a point to open up to other users through instant messaging or dates IRL. Luckily, other users will take your privacy seriously since they'll want the same in return. 
Be willing to pay up.
While the credit system may appear wallet-friendly, it's anything but. Many reviewers claim that they've spent hundreds just chatting with other users, especially since you have to pay 5 credits to send a simple "hello." So, make sure you have the funds to make the most out of your time — and that, ya know, your spouse won't question any questionable purchases. 
Visit Ashley Madison
Datezie may receive a portion of revenue if you click a link in this article and buy a service or product. The links are independently placed by our Commerce team and do not influence editorial content. To find out more, please read our terms of use.