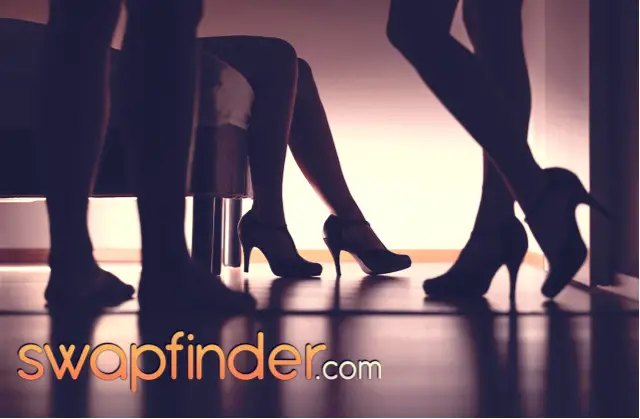 Our Rating
Pros/Cons From the Experts
Fast Facts

Number of Members:

40 million worldwide, 4.5 million in the United States

Founded:

2001

Countries Available:

United States, Canada and Europe.

Ratio:

  70% men, 30% women

Price:

Free to sign up, but membership required — Gold membership: $39.95 for one month, $26.95/ 3 months, $19.95/12 months
Sometimes, one isn't enough. Or two. Or three. If you're looking to keep your options open — or ya know, find pleasure in hopping from one partner to the next — then SwapFinder is for you. Described as the place where "swingers come out to play," SwapFinder is the be-all and end-all for couples and singles to find steamy yet casual sexual encounters.
Similar to other hookup sites like FetLife, SwapFrinder doesn't use an algorithm to track down the perfect match. Instead, it follows the Facebook model, giving you a social networking-esque experience to meet others with different sexual kinks and interests.The rest is up to you: Share your own erotic stories, comment on other user's profiles, and weed through tons of photos and videos. 
If you're interested in giving swinging a try, find out everything you need to know about SwapFinder:
How to Sign Up for SwapFinder
It just takes five minutes — if that — to sign up for SwapFinder. Simply, sign up with your email address and follow the prompts to identify your gender, sexual preference, location, and so on. Take time to add photos during the sign-up process, or add them later on — it's your call. The hardest part: Coming up with a unique username that best fits your personality without totally giving away your identity. 
What to Expect from SwapFinder
If this is your first time diving into the swinging community — officially, at least — SwapFinder may seem intimidating. But remember, you can give as little (or as much) as you're comfortable with, which means you can work your way up to swinging if you're not quite there yet. To feel fully prepared before you commit to another hookup site, read through this list of pros and cons:
Pro

: There's someone — or something — for everyone.

SwapFinder doesn't discriminate against specific genders, sexual orientations, and preferences, making it easy for everyone — yep, all 40 million members — to find whatever they're looking for. Keep in mind,though, that the site is 70% male, which may make it tricky for males to find women looking for a hookup.
Pro

: It's easy to sign up.

SwapFinder cuts to the chase: There isn't a laundry list of (annoying) questions or multiple verifications to create a profile. In just five minutes, you'll come up with a username, answer simple questions, and choose your top pictures. Once your email is verified, the fun really begins. 
Pro

: It's fairly affordable.

SwapFinder isn't the cheapest hookup site, but it's also far from being the most expensive. If you're in it for the long haul (er, a year), then you'll have to shell out about $20 a month to meet other couples and singles interested in the same thing as you. And let's face it, you can't put a price on that, can you? 
Con

: There isn't a corresponding mobile app.

Enter SwapFinder's fatal flaw. At the moment, SwapFinder doesn't have a mobile app, but the website remains compatible on every mobile device. While most features work while you're on the go, three are a few glitches, including the fact that you can't read comments or interact with users while watching a video. 
Con

: There are a lot of bugs to weed through.

Even though SwapFinder's only claim to fame is its website, there are still several flaws with its construction and display. Many users report bugs and glitches when using the mobile version. So, stick to the desktop version if you want a faster, more seamless experience.
Con

: People are flaky — or fake.

Let's talk numbers: One dating review site found that out of the 300 messages they sent to potential suitors, only 21 replied. Their guess? A majority of the other profiles are either inactive or bots. That means, you'll have to be extremely proactive to find another couple or single seeking intimacy. 
What Users Are Saying About SwapFinder.com
"SwapFinder generally provides a platform that enables you to find a casual encounter, that is of course if you play your cards right. Its member base is large enough for you to find what you are looking for exactly. However, you can't do much with a standard membership. Though a little bit expensive, a premium membership is useful if you want to get something from the dating site. Try Swapfinder today. Who knows? The hot nights you dreamed of once might come true with just one click!"
Tips for Success on SwapFinder
Now that you know what SwapFinder is really like, take some time to think about if you're ready to commit to your swinging dreams. If so, then follow these tips for success:
Keep an open mind.
Like any other dating or hookup site, you never know what you're going to find until you find it. For an enjoyable (albeit, successful) experience, be open to different people, conversations, and experiences. Ultimately, you choose what kind of experience you want to have, so make sure you don't settle for anything less than your swinging fantasy.
Prepare for the worst, and hope for the best.
SwapFinder has a questionable reputation, and many say it's overrun by bots and spam. Some users, however, report that they've found success. Dive in headfirst to up your chances of finding what you're looking for, but also keep in mind that there are other hookup sites available if you don't find success after a considerable amount of time. 
Visit SwapFinder
Datezie may receive a portion of revenue if you click a link in this article and buy a service or product. The links are independently placed by our Commerce team and do not influence editorial content. To find out more, please read our terms of use.