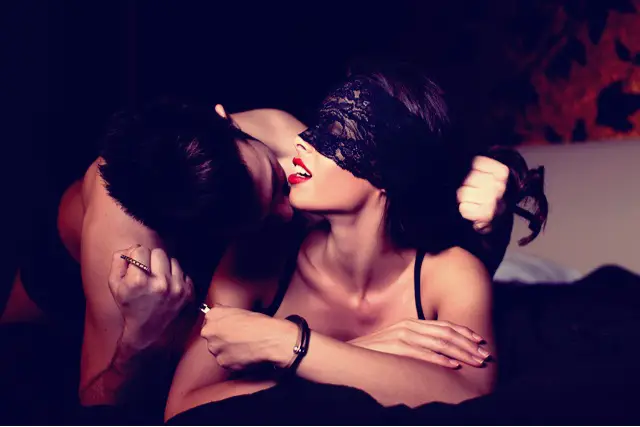 Hot, steamy, casual, stranger sex has a time and place. So does makeup sex. And making love with deep, intense eye connection. Funny, playful sex can be fulfilling and dynamic, too. When you're in a long term relationship, you learn the nooks-and-crannies of your partner, and you can access their pleasure points easily and efficiently. This is one of the perks of being paired up — but it can also, well, get boring. After all, when you can anticipate every thrust and moan, just in time for a Game of Thrones episode before bed… you probably should consider spicing up your routine. 
Many times, sex coaches like Gigi Engle will recommend duos introduce a toy into their bedroom to up the ante. Contrary to popular belief though, Engle reminds men that these foreplay masters aren't merely for women, but can be beneficial for the dudes, too. "While a vibrating toy can help bridge the orgasm gap and allow women to experience more frequent orgasms during sexual play and intercourse, sex toys are great for men too. Toys like cock rings and prostate toys increase male pleasure by a notable margin," she explains. 
And hey, even if you're not feeling that adventurous (yet), it's important to note take toys as an offensive recommendation from your lady. As Engle puts it: "When it comes to a woman bringing a vibrator into the bedroom, dudes should be psyched. Your partner gets to have even MORE pleasure … which will likely lead to more sex overall. If you're having lots of orgasms, you'll want to have more sex." 
Here, a beginner guide to the best sex toys for couples that'll have both of you moaning in appreciation. 
This sex toy might not look like much — but it packs plenty of X-rated punch. Engle says the softer feel and small size is ideal for sex toy newbies since it's less intimidating than say, an oversized dildo-like vibrator. You can apply it to your partner's clitorous or vulva during foreplay or intercourse for extra stimulation to her sensitive area. Engle also notes many men enjoy pleasure when this bite-sized toy is applied to the balls or perineum. For those couples with kiddos, this could be a solid choice because it's also very quiet and waterproof, so you can steam things up in the shower once the babes head to bed.
Sexpert at Sssh.com, Sex Entertainment and Info for Women and Couples, Coleen Singer says this vibrator is multi-purpose. Not only will the subtle buzz make it easier for a woman to reach orgasm as it's applied to her clitorous, but Singer says men will also be turned on,too. Start slow as you let it vibrate over your penis and scrotum as your partner goes down on you. You can then switch positions and then have sex once both of you are fully warmed up. 
Engle says it best when she describes this appropriately-named sex toy for couples: "This vibrating cock ring will blast your sex life into a new dimension." In fact, she's such a big fan as a sexologist and educator that she never travels or vacations without it. Not sure exactly what this circular master does? No worries, Engle explains: "Cock rings work by restricting blood-flow to the penis, making for longer lasting erections. The Pivot has a raised head, giving female parters much-needed clitoral stimulation during intercourse. This toy makes the cowgirl position really amazing." Not ready to place something around your shaft? Another way to use it, according to Engle, is as a vibrating clit stimulator for when your partner is on top or bottom. 
Sex writer, author and columnist Sophie Saint Thomas suggested this Tomboi harness for those couples who are interested in strap-on sex or pegging, no matter if you're in a homosexual relationship or if you are interested in role reversal. She says it's easy to wear, super comfortable and a great first-time harness since it allows for easy, slow thrusting. She does encourage couples to communicate during strap-on sex, since "dildos do not come with nerve endings."
You've been together for five — wonderful, difficult, crazy, fast and slow — years. You want to recharge that passion you once had for one another under-the-sheets, so you decide to get away for a long weekend somewhere tropical, and clothing-optional. Singer suggest packing along this sexy set to help set the mood. "If you are looking to do a little rekindling, this is the perfect way to get started. It's set up for romantic travel getaways but is also great for home use to try these out.  If you like them, each product is available in larger quantities," she explains. Inside, you'll find edible body oil, creme and body dust (sort of like glitter or baby powder), as well as lubricant. Since most sex toys are better used with some sort of liquid sensation, this is an ideal companion to your new toy collection.
Maybe you've thought about, read about it but haven't tried BDSM yet. You're curious, nervous but more than anything, excited! Thomas suggests this wand as a starting point, since it can be used for some beginner dom-and-sub action. "The dominant partner ties up the submissive, who has a vulva, and makes them come through clitoral stimulation," she suggests. Or, if you're not quite ready for that speed yet, she also says  it's great for inducing a clitoral orgasm during penetrative sex. Her word to the wise? Start at the low setting and work your way up. 
Clinical sexologist and multi-certified Sexual Health Educator Sunny Rogers, ACS recommends dice as a very easy introduction into sex toy play. Nothing penetrates anything but it does entice the conversation around fantasies and encourages foreplay. "They're small, non-threatening, and require no instructions at all. Plus, they're perfect for travel because of their petite size," she explains. "These dice have easy commands that work great for foreplay. Couples can easily roll the dice and act out whatever they roll — lick lips, lick toes, etc. Dice games are an excellent way to bring important sensate touch into a relationship."
Imagine this, if you will: a vibrating vagina. Believe it or not, this is what you get with this couple's vibrator, recommended by Thomas. It stimulates the penis, while turning on the female partner, too. As you get things heating up gradually, Thomas encourages a little dirty talk, which helps to, um, lubricate things along. 
If you've ever imagined sitting across from your partner and watching as she gets off, these vibrating panties, recommended by Rogers, is the key to your fantasy becoming a reality. "This is fun because one partner can be wearing the vibrator and the other partner can be the one in control of the vibrations," she raves. "Also, there's a short romance story on the back of the package to inspire couple's on how to enjoy their purchase!"
Though this one is on the pricer end of the vibrators, it's worth the money, according to Rogers. Made of silicone, it's one of her favorites, especially since it offers a variety of pleasure-creating opportunities for singles or twosomes. "The flexible ears can be used to pinch nipples, earlobes, the clitoris or labia," she recommends. 'It's also petite and can easily be used to caress either partner anywhere on their bodies. And being waterproof, it's perfect for fun in the shower, bath or spa."
Best Sex Toys For Couples-Frequently Asked Questions
Datezie may receive a portion of revenue if you click a link in this article and buy a service or product. The links are independently placed by our Commerce team and do not influence editorial content. To find out more, please read our terms of use.