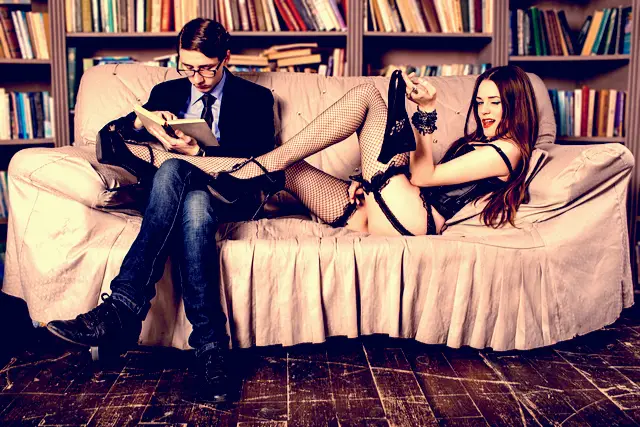 Beyond physical touch and stimulation, there are many different ways to get turned on: Some prefer visuals (read: porn) and others let their imagination run wild with erotic fiction. Considered "porn for women," literotica—the written word subset of erotica, has caught the public's attention in recent years. This is especially after the release of the best-selling book and movie series, Fifty Shades of Grey, which had everyone from executives to school teachers flipping through the pages in amazement. While it's geared towards women, men are also part of the equation, since plenty feel turned on by carefully-written language. Diving into this unknown world via the digital playground or by downloading books can be a free-for-all. But we're here to help. Whether you're looking for a looking to fulfill your sexual desires or simply escape the real world for a minute, you can find Literotica both online and in print.
What is Literotica?
Literotica is a term that has come into widepread use via the eponymously-named website, Literotica.com. Think of literotica as those steamy romance novels adorned with cowboys, sailors and shirtless men with six packs—but way dirtier. Or, gals in bikinis. Or women riding haystacks. Hey, it's fantasy, so everything goes. Generally speaking, this type of writing combines the structure of a classic romance novel: complex characters, sheer romance, and saucy sex scenes—with NSFW language a.k.a. dirty talk. Sylvia Day, author of the well-loved Crossfire series, describes it as "stories written about the sexual journey of the characters and how this impacts them as individuals."
While it is still intended to be sexually arousing and stimulating, literotica is not considered a type of pornography. In fact, erotica tells a story with sexual themes while pornography is a graphic visual of sexual activity, oftentimes objectifying the subjects. Gloria Steinem famously distinquished literotica from pornography in her book, Outrageous Acts and Everyday Rebellions: "Erotica is as different from pornography as love is from rape, as dignity is from humiliation, as partnership is from slavery, as pleasure is from pain."
Since the work is ultimately up for interpretation, many view it as another kind of art. Which, once again, another distinction from pornography.
Why does it turn people on?
It's plain and simple: Literotica allows people to step out of reality and live out their innermost fantasies. That recurring dream you have of getting swept off your feet by a country singer minutes before he hits the stage? It's possible to engage in your fantasies that you haven't experienced in real life … yet. Because there's a vast array of erotic stories out there, there's something for everyone, which means you wants, needs, and desires can be fulfilled (in your imagination, at least).
Those who engage in their sexual fantasies — whether through a book or, through Cyber sex or in IRL — enhances their sexual desire, according to this study by University of Granada. For women, in particular, reading literotica might open their mind to new sexual experiences, enhancing their vocabulary and knowledge of different techniques, toys, and kinks. A study published in The Journal of Sex Research revealed that women who read romance or erotic novels have sex with their partners 74 percent more than those who don't. Even better, the sex was more adventurous and playful, likely inspired by storylines in the literotica.
We can't say it enough: literotica is not porn. Unlike porn, most women find erotic novels more stimulating because they focus on the romance and sex itself rather than the bust size or svelte figure of main characters. Porn, for one reason or another, is still considered taboo for women. Statistically speaking, in 2018 29 percent of Pornhub's audience — undoubtedly the most popular free porn website — is female. While this number continues to increase, it's still small in comparison to the opposite sex.
Erotic novels, however, remain a "dirty little secret" for many women (and men!), especially single ladies looking to satisfy their sexual needs. A  2016 study published in the journal Sexual and Relationship Therapy confirmed that women who regularly read NSFW stories increase their chances for toe-curling orgasms and sexual satisfaction. Other benefits include lubrication, pain reduction, and overall sexual functioning.
What is the history of Literotica?
We all know the story: Sex has been around since Adam and Eve's day. Literotica, shockingly, wasn't too far behind. Erotic poems about goddess Inanna and Dumuzid the Shepherd made their rounds during the early days of ancient Greece and Rome, and this literotica was born. In the early centuries, erotic works—poems, particularly—were reserved for a select, elite readership, which means that not everyone could get their hands on Shakespeare's Venus and Adonis no matter how widely successful he'd become.
Erotic poetry prevailed until erotic fiction—and the sexual awakening of women—took over in the twentieth century. Some of the most beloved literature works of the time— examples include Lolita and The Story of O—were considered erotic novels. The weirder, the more avant-garde, the better: The 1900's were a time for writers to experiment with subliminal messages and subgenres such as steampunk,  paranormal, and fairy tale erotica.
As computers became more common in households, erotic literature made its way to the Internet. Literotica, one of the first adult sites open to the public, launched in 1998. Here, amateur writers could tap into their wildest fantasies publish short, one-off stories, stories written in collaboration with other authors, and entire novels released one chapter at a time. Lush Stories, "a sex stories and erotica focused adult social network," started soon after.
And then came the e-reader boom. When e-readers like the Amazon Kindle and Barnes & Noble NOOK arrived on the market in 2007 and 2009 respectively, suddenly readers could secretly read the dirtiest literature, no questions asked. Quite simply, they took the uneasiness out of reading these sexy titles."Booksellers used to call erotic fiction the 'sandwich' books," Tom Tivnan, features and supplements editor at The Bookseller, told The Independent. Take Fifty Shades of Grey as an example: The best-selling book by E.L. James sold 250,000 downloads before it was even printed. And if you purchased the audiobook version, Audible even let listeners skip the juiciest—er, most erotic— part of the book.
Here's proof that too much of a good thing can be bad: In 2017, Barnes & Noble changed their policy agreement and removed 50,000 (!) erotic novels because they were deemed "too hardcore." More recently, Tumblr banned all adult content in December 2018. Although the site, which hopes to make "a better, more positive Tumblr" is primarily focused on getting rid of lewd photographs and videos, the ban also negatively affected other adult content creators, even erotica writers. Going back to its roots, literotica is now primarily available in published books and free websites and forums.
Literotica Online forums/websites to join
Meet the king of erotic fiction and fantasy. After first launching in 1998, the site has continued to grow its numbers in terms of genres available and active users (In January 2012, the site had 4.5 million users a month.). And basically everyone who reads erotic stories online has stumbled across Literotica from time to time. Let's call it the #basic website you can join (for free, of course).
Another favorite, Lush Stories actually considers itself a social network for lovers of erotic stories.There's something for everyone, ranging from stories about quick bathroom romps to seriously public PDA. For those who want to take the stories to the next level, the site offers several chat rooms where you can interact—dirty talk is acceptable—with other people looking for the same thing.
Fantasy is great and all but the real stuff gets some people going. Here, men and women around the world submit sex stories straight from their own experiences. The realer they get, the dirtier they are.
Anyone in the LGBTQ community will connect with the stories on Nifty.org. It has the same sex stories that we all know and love—kinks, fetishes, and more—but they rely on LGBTQ characters instead.
Finally, a place to bring your Anastasia Steele dreams to life. The site is full of short stories and novels that bring attention to bondage, discipline, dominance and submission. If you're into that sorta thing, you'll know. If not, move along.
Fanfiction gets a bad rap—and here's why. Archive Of Our Own takes your favorite characters from movies and televisions and sticks them in totally sex, totally inappropriate situations.
Audiobook lovers will gravitate towards this app that reads aloud some seriously hot love stories. The app takes the mind-first approach by transporting you to the story's setting with sounds of waves, fireworks, or bustling sidewalks.
Take your pick: This site offers sex reviews, helpful tips, and a collection of erotic sex stories. Complement the story of your choice with tasteful yet sexy nude photos, available on the site.
There's a time and a place for the fantastical stuff. This site, however, focuses on the down and dirty sex lives of average people. Anyone can share their stories, which are later divided into categories including one night stands, friends with benefits, and sex with ex.  
Literotica books on Amazon
This Romeo and Juliet-inspired novel series shows why a no-strings-attached night of sex can be dangerous—and seriously exciting to read. It's full of angst, family drama, and sex.
Tragedy brings Arianna Lynn Harlow and Raffaello Palazzo together—and the rest is romance history. This series explores the dangers—and fun— that comes when a married man throws a mistress into the equation. Cue the mess.
Disney doesn't approve of this message: Before we got to know Anastasia Steele, there was Princess Aurora. Rice strips the class storybook of it's magic and trades the iconic tender kiss for an S&M-filled romance.
A 150-person orgy will do the trick, don't ya think? Art Press editor Catherine Millet recounts her many sexual escapades, including gang bangs and orgies, in this unfiltered, unapologetic story.
Sorry, we had to! L James's New York Times bestselling trilogy takes a young college student on a hot and heavy sexual adventure, whips and chains included.
For those who love a classic workplace romance, this novel shares the story of a billionaire who falls in love with his assistant. And let's just say, there's a reason why the book has "bad boy" in the title…
Crossfire
series by Sylvia Day
Gideon Cross, a total alpha male, is one of the most loved character in the literotica world. Throughout the series, his relationship with Eva just gets hotter and hotter.
Literotica-Frequently Asked Questions
What is literotica?

Literotica refers to a genre of written content that blends elements of literature and erotica. It involves crafting explicit and sensual stories, often focusing on sexual themes and experiences. These stories are designed to stimulate readers both intellectually and sexually, making literotica a unique and engaging genre.

How is literotica different from traditional erotica?

While both literotica and traditional erotica involve explicit content, literotica places a strong emphasis on storytelling, character development, and narrative depth. It aims to evoke emotions, engage readers' minds, and create a more immersive experience beyond just the sexual aspects.

What are the key elements of a literotica story?

A literotica story typically includes well-developed characters, a compelling plot, vivid descriptions, and explicit sexual scenes. The focus on these elements helps create a balance between the erotic content and the narrative, enhancing the overall reading experience.

Is literotica a new genre?

The roots of literotica can be traced back through history, as erotic literature has existed for centuries. However, the term "literotica" itself gained popularity in the modern digital age with the rise of internet communities and platforms dedicated to sharing and discussing explicit yet well-crafted stories.

Where can I find literotica?

Literotica can be found on various online platforms, including dedicated websites, forums, and social media groups. Some websites specifically curate and host a wide range of literotica stories, catering to different tastes and preferences.

Is literotica only meant for sexual arousal?

While literotica is designed to be sexually stimulating, its focus on storytelling also allows it to explore themes of romance, relationships, personal growth, and more. Readers can appreciate the literary and emotional aspects of these stories beyond their erotic content.

Can anyone write literotica?

Yes, anyone with a flair for writing and a willingness to explore erotic themes can attempt to write literotica. However, it requires a balance between explicit content and literary skill to create engaging and enjoyable stories.

Are there any guidelines for writing literotica?

Yes, there are guidelines to consider when writing literotica. It's essential to maintain respect for consent, avoid harmful or offensive content, and focus on creating a consensual and enjoyable experience for readers. Many platforms and communities have specific content guidelines that writers should adhere to.

Is literotica suitable for all audiences?

No, literotica is intended for mature audiences who are comfortable with explicit content and sexual themes. It is not suitable for minors or individuals who are not interested in or comfortable with such material.

Can literotica have a positive impact?

Yes, literotica can have a positive impact by providing a safe space for exploring fantasies, fostering open discussions about sexuality, and promoting self-discovery. Well-crafted literotica stories can also contribute to improving writing skills and creative expression.
Remember, literotica is a genre that combines explicit content with literary creativity. Approach it with an open mind and a willingness to engage with the stories on both intellectual and sensual levels
Datezie may receive a portion of revenue if you click a link in this article and buy a service or product. The links are independently placed by our Commerce team and do not influence editorial content. To find out more, please read our terms of use.