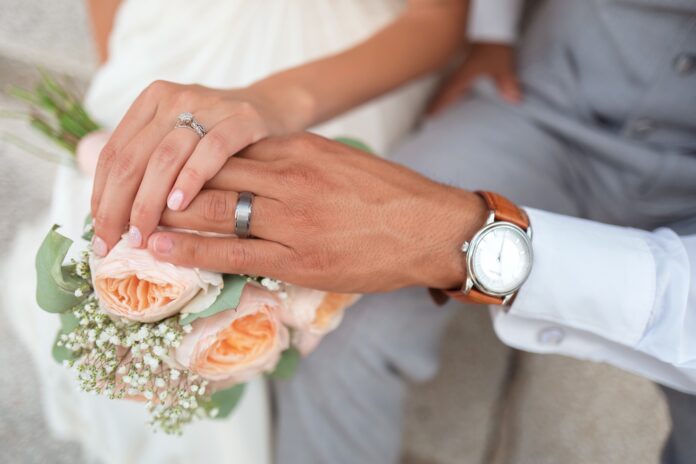 If you think that dating for a long time and being married are pretty much the same thing, think again. 
It's true that you can be committed without tying the knot – some people don't believe in the institution of marriage but will share a mortgage and kids. However, moving from dating to marriage (or an equally serious level of partnership) is a process that inevitably transforms your relationship and deepens your commitment. 
For instance, there is a difference between seeing each other every day and moving in together. Making plans for a getaway is not the same as making mutual decisions around career plans. 
Here is what you need to know to move from dating to marriage with a solid foundation of trust and love – and a dose of pragmatism. 
Dating VS Marriage 
To understand the key differences between dating and marriage, it's important to wrap your head around the stages a relationship goes through as it evolves. 
Sally Connolly, LCSW, LMFT, wrote about these stages in a MentalHelp.net blog post: initial meeting; curiosity, interest and infatuation; 'enlightenment' and becoming a couple; commitment or engagement. 
As you can see, there are three stages before meaningful commitment/engagement occurs – you move through them while dating, while the last stage is what takes your relationship from dating to marriage material. 
The initial meeting stage is self-explanatory, whether you meet on a dating app (there are some dating apps better for serious relationships than others) or through mutual friends. The second stage of dating is all about curiosity, interest and infatuation. It's the attraction and the butterflies, the anticipation of your next date. "At this stage, the attraction may not be too deep and each half of a couple is generally putting his or her best foot forward. Differences are not noticed or are dismissed with thoughts like 'not a big deal' or 'she will change,'" according to Connolly. This stage may last three or four months depending on the couple, and it's important not to move too quickly into marriage at that point. 
The third stage of dating, the one before commitment, is when reality sets in and things get more serious. You start noticing each other's flaws. You drop your guard and start revealing more of yourself. Bigger questions emerge about your future together. It's a crucial step that can set you up for either success or failure. 
Finally, stage four is the key differentiator between dating and marriage. ​​"At this stage in a relationship, couples should have a good understanding of their partner's values, lifestyle, and goals for the future. There should be a relationship with each other's family and friends," says Connolly. At this point, you know what you need to know about each other, you've had in-depth conversations about your desires and values, and you've figured out ways to compromise and create a life together. You also have a profound level of connection and intimacy. 
Tips To Move From Dating To Marriage 
Now that you have more awareness of dating versus marriage, here are a few tips to help you move through the process of getting more serious. 
Have Honest Conversations 
Communication is critical. "Very few couples know the right questions to ask before marriage. They falsely believe they are going to go through marriage together as husband and wife, just as harmoniously as they navigated their relationship in the beginning," wrote marriage and family therapist Dr. Miriam Torres Brinkmann in a YourTango article. 
According to her, it's important to have conversations about having children and a family. You'll also want to discuss intimacy and preferences in the bedroom (without shame or judgment!). Additionally, you'll want to talk about dealing with conflict, share your views of relationships and commitment, and have conversations about things like money and spirituality. 
In other words, there is a lot to unpack to get on the same page about your expectations and values. You don't have to be in agreement about everything: part of being in a relationship is respecting and celebrating your differences. However, it's important to have a common vision of the future and make sure there are no deal breakers such as one person wanting children while the other one doesn't. 
Think "We" – Not "I" 
Moving from dating to marriage involves seeing yourself as part of a team and prioritizing the needs of both your partner and relationship. "When you move into marriage, you think of 'we,' not 'I.' You look to understand your partner rather than be defensive in an argument. The foundation of your commitment allows for deeper, more secure communication," says Sandra Myers, relationship expert and c-ofounder of Select Date Society. 
Commit And Support One Another 
Since marriage means commitment, you'll need to show your commitment as your relationship evolves from dating to getting married. "In any committed relationship, you'll meet some storms," Kait Scalisi, a certified sex educator based in New York City, told The Knot. "How do you want to be supported? What about your partner? Knowing how to show up for one another in both times of trouble and celebration shows that you've taken the time to really get to know one another and are realistic about the ups and downs you'll face as a couple—you're in this rollercoaster we all live in together."
Intertwine Your Lives 
Intertwining your lives in a more meaningful way also matters – marriage is, after all, the concept of sharing and building a life together. "When your partner is interested in meeting your family and friends, it shows they are looking to be more involved in your life and moving towards a committed relationship. When they are ready for marriage, they will ask about plans like having a family; or wonder what other parts of the country you may be open to moving to," says Myers. 
Always Be Dating 
According to her, it's important to "always be dating" regardless of the stage of your relationship. "It's important to take time out each week and spend quality time together. This is the time you show up as you did when you were dating and ensure you invest in your relationship. What you put into your marriage is what you will get out of your marriage," she says. 
Yes, you want to be pragmatic and intentional when moving from dating to marriage, but not so much that you forget to bond and have fun together. 
Avoid Ultimatums 
There is one thing you want to avoid at all costs when it comes to making the transition between dating and marriage: ultimatums. "If you want to start your marriage with a strong foundation, it is something you both need to feel excited about, not coerced into. It's always important to remember that when you get engaged, you don't want to let the wedding become more important than your relationship," adds Myers. 
If you keep in mind the insights and tips above, your relationship should evolve in a healthy and strong direction without the need for such forms of pressure.