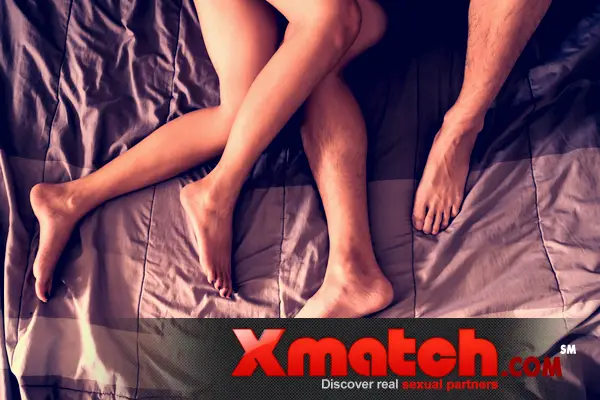 Considering porn is becoming more and more socially acceptable, as countless sex therapist and experts recommend it for couples and singles exploring their sexuality, it makes sense why dating sites that mimic porn would be popping up. While XMatch isn't new—it's been around since 1996—this Australian company is one of the few that's primarily video based. This allows users anywhere to broadcast themselves in all sorts of sexual situations by themselves or with their partners, inviting voyeurism at its finest. Though we believe enjoying sex in all mediums is an important part of health and happiness, it's worth mentioning that XMatch reviews from users who want to connect with someone in person for a fling are not always the best, so try to think of this site as a place to watch and masturbate, rather than date, per se. If that seems more up your alley than meeting up for a one-night stand, it could be an avenue that's fit for your interests and intrigue. Here, what you need to know about this NSFW website and how to get plugged in and turned on ASAP:
---
The brass tacks: what you need to know from this XMatch review:
XMatch is a good site to find a hookup particularly, to find people who have similar kinks and fetishes
There are a good amount of active users and they are fairly responsive when compared to other casual dating sites
You can have virtual sex and even integrate virtual sex toys via the "Connexion" feature 
It is definitely not safe for work (but who would be looking for hookups online at work? Don't do that…)
It is a website only, there is no XMatch app
Datezie's Overall XMatch rating is 7.5/10
---
Fast facts about XMatch
Number of Members: Over 1.3MM visits monthly. No information on total membership
Founded: 1996
Countries Available: United States, Canada, Australia and a handful of other countries.
Men/Women Ratio:More than 50 percent women, as of 2016.
Price: Free to join, but costs vary from $10+ to interact with members (see full pricing table below)
Our XMatch Ratings
How to Sign Up to Xmatch
Make sure you have privacy—and ahem, some alone time—since once you open up this Pandora's box of x-rated material, you will find it difficult to focus on anything else. Joining only takes a hot second, since you merely have to fill out basic info: who you are, what you're looking for, your country, state, zip code and birthday. It's important to note that couples can join together if they're looking for a foray into the swinger lifestyle, making for an interesting differentiator for XMatch. Then, you'll be prompted to include an email and password, before you finish up adding in your body type, orientation, race, marital status, and as with all Friend Finder-esque websites, your headline. Think of this as what will draw users in, much like writing utilities headlines for clicks—whether you like booty play or threesomes, here's where you broadcast it.
That's it! From here, you can browse through profiles and search who is online and in your area, but it's important to note you can't interact with anyone or see full images or videos until you upgrade to a membership. This can be a big bummer for those who aren't sure if they're ready for the commitment, but with a variety of price points, based on interactions and use, you might find something that's reasonable with your budget. Of course, you can also cancel at anytime.
XMatch Pros and Cons
Curiosity gets the best of the cat—and of your libdio—when you're considering joining XMatch. As with any adult-focused websites, there are major benefits to being a member, as well as some downfalls. Here, an idea of what to expect when you join this steamy dot com.
Pro

: You can just observe.

With an upgraded membership, you can watch endless hours of live web cams on XMatch. This allows you to choose what you want to experience, without participating much yourself. The site itself is made for voyeurs who can search by 'New Matches', 'Members Near Me', 'Who's Online' and 'VIP', if you pay the cost. With this, you can quite literally enjoy someone masturbating, a couple having sex with one another on camera, oral sex between two people or simulated with a dildo, and plenty of other erotic acts. We find this to be a benefit if you are looking for something different than porn to satisfy yourself, without having to reveal personal information—or ahem, your face.
Pro

: You can have virtual sex. Literally.

So, you're more of a hands-on person? Well, you're in luck then. With XMatch, you can go the complete opposite way of watching idling and dive right in. This is called 'Live Action' where you can not only watch model cams, live member cams and other videos, but create your own, in real time. This is a unique part of XMatch, as compared to their competitors or sister sites, and something that makes the experience all-encompassing. For those who are willing to take it a step further, you can pay for the 'Connexion' feature that requires you to purchase a sex toy, download a Flash player and then connect the toy to your computer. You can think choose a model, and she will sync—in motion—with you, so you feel her movement and she feels yours. It's sort of like having sex—and will definitely get your rocks off.
Pro

: All kinks are welcome.

In fact, 31 types! Though there are hundreds under the umbrella of fetishes, XMatch recognizes that not everyone falls under the one-fantasy-fits all category, and allows users to search and match with others who share their interests. These include, but are not limited to, bondages, dirty talk, spanking, multiple-partners and others. You can rate how important this particular act or desire is to you—from 'can't live without i't to 'I'm curious about this.' For those who aren't quite sure about interacting with someone in real life based on their kink, this can be a safe and welcomed place to practice.
Con

: You don't have to interact.

Yep, that's right: it's a pro and a con. The ability to sit back, watch and enjoy is a benefit, sure, but it's also one that could be frustrating for those members who don't want to just sit behind a computer screen. XMatch isn't given the a five-star seal of approval for creating in-person matches, and that's a bummer for people who want in-person, no-strings-attached, sex. If you're constantly broadcasting yourself and your body, but only receiving video and text chats in exchange, you might quickly bore of the site.
Con

: You have to pay—and it is confusing.

No matter what you want to do on XMatch, it's going to cost you. And sadly, it's not always easy to understand exactly what you're paying and how long you'll be forking over the cash. When we joined, we found the navigation of the site confusing, making us wary to give our credit card without understanding exactly what we were receiving in return. Not everyone has an unlimited budget for digital romps, and XMatch doesn't provide too compelling of a reason to fork over the change.
Con

: It feels eerily familiar.

Because XMatch is part of the Adult Friend Finder and Friend Finder X communities, you will see a lot of the same members across all three domains. (And others, considering the Australian company owns quite a few.) If you're already part of these higher-rated hookup sites, we suggest thinking twice before joining XMatch. It's one of the lowest rated in its category, and you could find the ability to meet up in person with another site.
Is XMatch Expensive? XMatch Prices (2023)
The monthly cost of an XMatch membership is lower if you commit to a longer membership period. With any dating or hookup app, it makes sense to use the platform for a good amount of time (we mean several months) to really get a sense as to whether it works best for your needs.
Note that free memberships for men are really not an option. You will have to start a paid membership to enter the site
If you are looking for a pure hookup site, it is also worth considering AdultFriendFinder. It is similar enough and our experience has been that interaction and messaging volume (i.e. number of potential hookups) was greater with AFF.
| Membership Duration | Xmatch Costs | Xmatch Total Cost |
| --- | --- | --- |
| 1 Month | 39.95 USD / Month | 39.95 USD |
| 3 Months | 26.95 USD / Month | 80.85 USD |
| 12 Months | 19.95 USD / Month | 239.40 USD |
What Users Are Saying
Well, it's not all pretty—but there are some silver linings. Here, real users share their input about experiencing XMatch and all of its bells-and-whistles, whips-and-chains:
"I messaged 50 women based in Ohio, United States. This is the region we usually use when testing online dating websites to ensure fair comparisons. I received a reply from 9 of them. That's actually a pretty amazing response rate for a guy compared to most hookup sites!"
"I tried the hookup site XMatch and after 2 weeks feel let down. It may have good features and looks really nice but I don't think I ever messaged someone that was real. Everyone was just asking for money and I had already paid XMatch for a subscription. Too much in my opinion."
"We spent a lot of time on xMatch.com, and sent out 480 emails during the time we spent there. We only got back 12 responses. Given how many reviews and xMatch comparisons we'd read before trying it out, that was a pretty big disappointment."
"I used the site for an entire month. I set up a kickass dating profile, sent out countless messages to almost every one of the women close by. I received replies from a grand total of 3 women. Neither of which was actually interested in meeting up with anyone (really don't see why they even bother signing up if this is the case). On top of that, they had no idea what I was talking about when I mentioned something only the locals here knew about. This instantly turned me into a skeptic. Even the ones that did reply, weren't actually locals. Sad."
Tips for Success on XMatch
If you like what you see in this XMatch review want to give XMatch a shot, there are a few ways you can set yourself up for better matches and messages, as well as video chats that really get you going. Here, a few to put into practice:
Participate
This is a no-brainer, no matter what dating or hookup site you join. If you merely wait for people to come to you or to engage in a video chat, you'll only find scammer and not true interactions of value. Take time to set up your profile, be mindful of what you're really looking for and put yourself out there. Though you might not receive dazzling, x-rated responses right away, within time, you could be vibing with someone sexy.
Protect your identity
Because some of the XMatch reviews from users indicate that the site feels scammy, don't ever give away personal information—like your credit card or identification numbers—to anyone you don't know. Though it is unlikely this will happen, it's always better to air on the side of caution when dealing with a site that isn't as trusted as others in the market. Once you meet someone in person and start seeing them, you can decide what information is appropriate to share, but never post this online or in a message or video chat.
Let go of your inhibitions
Hey, it's called XMatch for a reason. It's not meant for flirting that could lead to a relationship or matching based on what ice cream flavors you have in common. The point is to really release your boundaries, inhibitions and have fun. Otherwise, what's the point? Try not to judge yourself, others, or the process, and follow wherever your fantasies take you.
XMatch Key Features
XMatch has plenty of cool features to help you explore your fantasies and find people to share them with, virtually or in real life.
Erotic Stories
This section features real stories from XMatch and Friendfinder network subscribers. Feel free to read, share your own or both.

Bling

What is Bling? Blings are spicy gifs that members can be add to other members profiles. Unlike in Office Space, there is no minimum amount of bling…

Hot or Not

Hot or Not is a classic game and pretty self explanatory: see a picture of a member, if you are interested you click hot, if you are not, you click not

XXX Movies

XMatch is definitely on that line between hookup site and porn site, click on this feature and get sent directly to the latter…

Live Action

This feature includes live broadcasts from active members. If you want to join the show, you need to pay a minimal fee.

Sex Academy

This section contains educational resources on kinks and sex.

Blogs

Similar to the sex academy, this section includes articles on sex, though it is more salacious than educational.

XMatch Magazine

XMatch Magazine features, pictures, tips and advice curated by XMatch moderators.
XMatch Review-Frequently Asked Questions
Is Xmatch legit?

Though is probably already pretty clear from this XMatch review, Xmatch is indeed real and is a hookup site with over 29 million members. That said, there definitely are some fake and suspect accounts. Note that XMatch is a site for casual hookups and hookups amongst people who share the same fetishes, so a site that's a bit on the wild side will definitely have a user experience that's a little unconventional.

Is Xmatch Free?

You can browse Xmatch for free, but you need a paid membership to access other features,  like the ability to send and receive messages (note: the first 5 messages you receive are free). Note: men are required to pay to access the service.

Who owns XMatch?

XMatch is owned by Friend Finder Networks (they also own AdultFriendFinder)

Is XMatch worth it?

We think XMatch is worth a try if you are looking for a casual connection or have a specific kink and you are looking to find like-minded individuals.

Is XMatch expensive?

Xmatch is about average for a paid dating/hookup site (see our pricing table above).

Can I block someone on XMatch?

Sometimes you'll find people on hookup sites who you are not interested in…and they just won't get the hint. We are going to level with you, you may find some of these people on Xmatch. To block an Xmatch user, simply click over to their profile and click the "block" button. Problem solved!

Can you send messages for free on XMatch.com?

You can send messages to other free users on XMatch without any cost, but to message any other user, a subscription is required.


Is there an XMatch.com app?

No, XMatch.com doesn't have an app.

How do you cancel your XMatch account?

To delete your account, navigate to the top right corner of the screen and click on your username, then select "Account Settings", and scroll down to the bottom of the page where you will find the "Delete My Account" link in small font.

Once you've accessed the account settings, you will be presented with various options such as "Hide My Profile", "Turn off auto renew", and "Please Delete My Account". Select the option that best suits your needs.


Does Xmatch Work?

If you are looking for a Hookup or to find people with similar kinks, XMatch can definitely work. Like any other hookup site you will need to put in the effort to get the results you are looking for.


What does XMatch Cost?


The one-month membership is $39.95.
The three-month membership for $80.85.
12-month membership for $239.40.

Datezie may receive a portion of revenue if you click a link in this article and buy a service or product. The links are independently placed by our Commerce team and do not influence editorial content. To find out more, please read our terms of use.