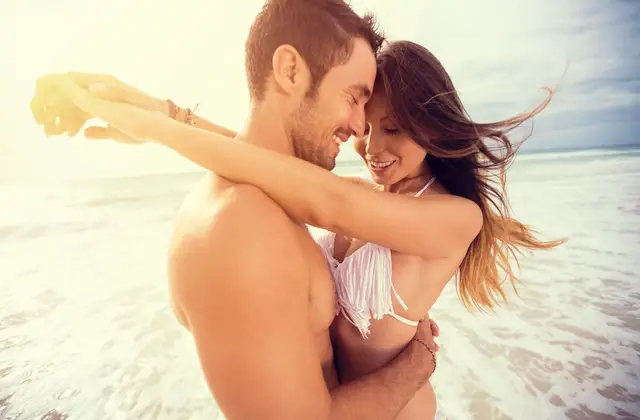 After being cooped up inside for what feels like forever, the idea of going out on a date — heck, even an awkward one — sounds like a dream. The upcoming summer has already been dubbed "hot vax summer" or "shot girl summer" by many singles, and now Match is here to confirm that the next few months are about to get really, really steamy. 
In its first-ever Summer of Love survey, Match surveyed roughly 2,000 of its single users and found that they are " excited, feeling confident and want it all — meaningful connections, love and sex." Singles are clearly ready to mingle: 70% are ready to put themselves out there and 69% feel more confident in who they are going after than ever before. 
But all of the confidence in the world won't settle their nerves: Just over half (52%) of Match singles are worried potential matches won't be looking for a serious relationship over the next few months. Only 40% of the surveyed singles said that they are actually excited to get back out dating after a year stuck inside, chalking it up to another case of FODA, or fear of dating again. 
When the time comes that they are completely ready to put themselves out there, a majority of singles (71%) are seeking something serious and long-term. A small percentage are still open to hookups (hey, it's been a long, dry year), but 65% claim that they are not interested in hookups or casual sex. Hookup or not, 57% of singles said that they are ready — like, really ready — to have sex this summer. 
Vaccination is the only thing that might get in the way of the summer of love. Nearly half (46%) of the singles surveyed agreed that they wouldn't start dating in-person again until they got their shot. Similarly, 56% said they are concerned about their date's vaccination status, even stating that they would turn someone down if they weren't vaccinated yet or had no desire to in the future. 
As singles navigate the wild world of dating in 2021, it's more important than ever that they follow their gut and do what feels right. ""As singles are out there dating, safely, my biggest piece of advice is take your match at their word," Rachel DeAlto, Chief Dating Expert for Match, writes in the company's press release. If someone says they aren't interested in a relationship, believe them. So often singles think they are going to be the one to change them. Sure, it may happen in Hollywood, but there are plenty of amazing people ready for a real relationship that you can focus on instead.