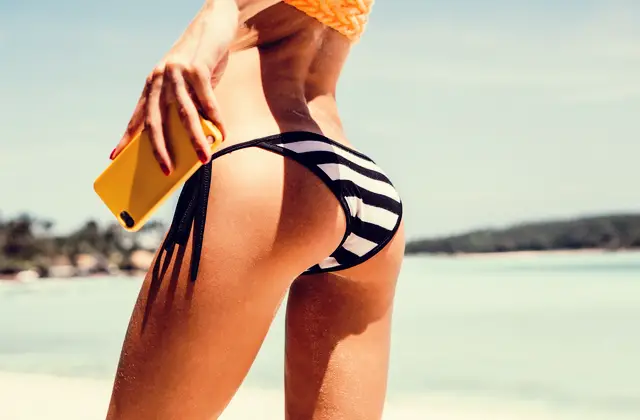 When it comes to finding love or marriage on dating apps, pictures really are worth a thousand words. Sure, they can always backfire — say, if you're the guy who has an entire profile of group photos with other women or you proceed to get too intimate way too soon — but more often than not, the photos you send someone allow them to get to know you on a more intimate level than whatever's already on your profile. 
Belfies aka butt selfies) are a surefire way to keep the spark alive once you've connected with another single. The booty selfie is far more seductive than a standard selfie and they often don't include your face (unless you're crazy flexible), making it hard to trace back to you in case, ya know, it accidentally gets out of your control and into the world. With just one photo, belfies instantly take relationships up a notch — into a more intimate, sexual territory. 
In a recent member survey, Dating.com found that 64% of singles have sent a belfie to an online match in the last 12 months. Of those, 59% are women compared to only 41% of men. Most —75%, to be exact — even go so far as to say that belfies improve their self-esteem and help them overcome insecurities with dating since, well, it forces them to put their bottom on the line — literally. 
"While selfies definitely serve their purpose as an introductory form of attraction, belfies are what takes connections to the next level. What stood out most about these findings is that many are using belfies as a confidence booster – an unexpected but definitely understandable finding. Getting comfortable with your own body is vital to any relationship," Maria Sullivan, Vice President and Dating Expert of Dating.com says in the official statement. 
Taking a belfie requires patience. To accentuate your asset, shoot from a lower angle and take advantage of a reflective surface, like a mirror, nearby. But if you're new to belfies, start slow and work your way up to something more revealing. The experts at Dating.com even recommend keeping some clothes on – lacy underwear, lingerie, an oversized sweater, you name it — to leave something to the imagination. 
Get this: 77% of Dating.com members credit belfies to a deeper romantic connection. Plus, a majority of people (86%) found the experience of sending a belfie to be enjoyable — empowering, even. While a small percentage (14%) felt anxious after hitting send, it was far less than the number who reported feelings of worry and insecurity after sending a standard selfie. On the flipside, nearly all of the people (98%) receiving belfies were more than satisfied.  In fact, the survey shows that people would rather receive a belfie than a selfie, which, let's just say, makes plenty of sense.