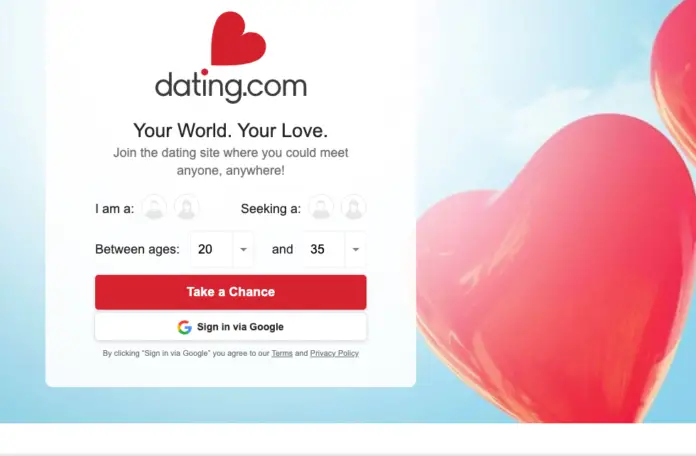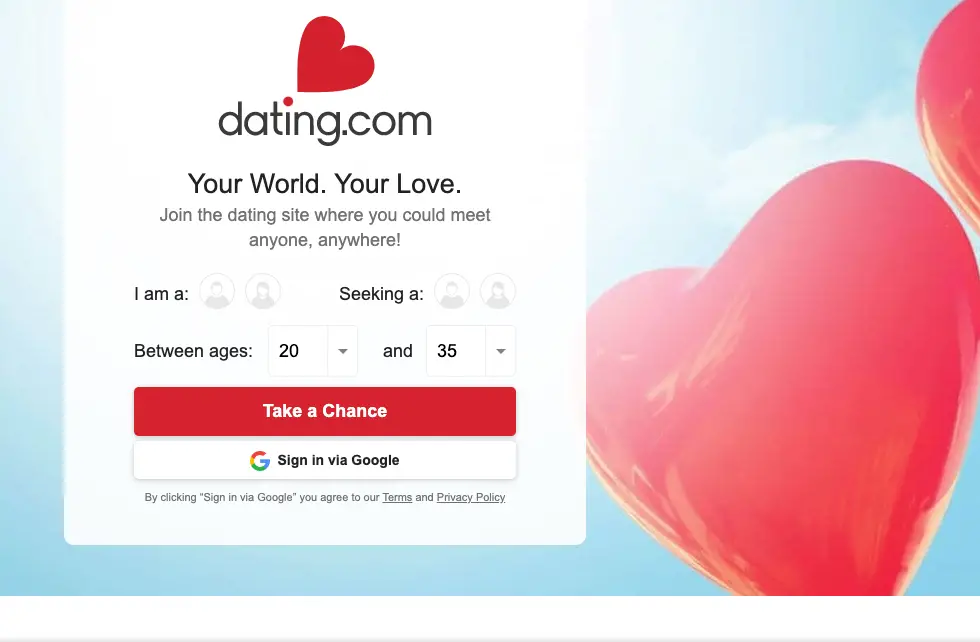 Our Rating
Pros/Cons From the Experts
Fast Facts



Number of Members:

73 million

Founded: 1993
Countries Available:

32 countries, including United States, Italy, Spain, and China

Men/Women Ratio: 60/40
Price:

$19.99 for 150 credits per month, $149.99 for 600 credits per month, or $299.99 for 1,500 credits per month
When people turn to the dating apps to find love, they often rely on algorithms to do the work for them. And it makes sense — why put in the extra effort if technology can handle it for you? Some of the most popular sites and apps today rely on numbers and metrics to create matches. For example, Tinder knows to keep pushing the person you 'Super Liked' to the top of the pile, so you can keep them top of mind. Others, like Happn, use location services to let you know when you have strolled past the same person many times in your neighbourhood, but you've yet to say 'hello.' If you recently watched 'Social Dilemma' on Netflix and you're a bit creeped out by how social algorithms know everything about your preferences and choices, perhaps it's time for another dating option. 
Dating.com follows a different approach — in fact, they say the opposite: 'Dating isn't about data.' This site, which has been around since 1993, is centered on the belief that love — and all of its glory — is brought on by chance, not numbers. It sounds sweet and well, they have the membership base to make your odds pretty great. 
Now with a staggering 73 million registered users, Dating.com has the ability to connect interested singles with people around the world in the 32 available countries. It's really open to anyone and everyone: The site accepts all ages, genders, and sexual preferences. Really, it's up to the user to cater the experience to fit their wants and needs, no matter if they're in search of someone to talk to, hook up with, or commit to forever (we're talking marriage).
But every dating site comes with its fair share of complications, and Dating.com is no exception. That's exactly why we've outlined the pros and cons, as well as tips to get the most bang for your buck (because it's one of the priciest options out there). Here's everything you need to know to determine if it's the right fit for you:
How to Sign Up
Even if this is your first go-around on a dating site or app, you'll find Dating.com easy enough to figure out. (It's nothing fancy, so don't get your hopes up too high for a sleek interface.) Whether you download the app on your Apple or Google phone, or head straight to Dating.com on your laptop, you'll be prompted with a sign-up page right away. There, you have the option to link your email or Google account for fast, easy sign-up (highly recommended!) or fill in the information manually. 
Then it's up to you to build out the 'About You' section with as much detail as you'd like: Fill out your name and nickname, sex and gender of your prefereence, birthday, and location. You know, all of the need-to-know info that can help find a suitable match for your next could-be lover. 
There are also additional sections — interesting details about you, description of your ideal partner, personal interests, and photos —  to better personalize your profile. Remember though, you have the option to skip ahead and get mingling, if that's what you prefer. To see any success on Dating.com, however, it's recommended that you provide as much information as possible, especially any potential conversation starters or click-worthy pictures.
Once you complete your profile to your liking, then you'll be redirected to the main homepage, so you can get to work. No email verification necessary. (And yes, that's a red flag that we will get to later, since clicking 'this is me' in your inbox is an essential step to ward away fakers, scammers and catfishers.)
One important financial note: It's free to create a profile, but you do have to pay a price to do anything further. Each minute in a live chat costs 1 credit, and each email costs 10 credits. You can choose between three monthly membership plans, which all have the option to be upgraded when you inevitably run out of credits: $19.99 for 150 credits per month, $149.99 for 600 credits per month, or $299.99 for 1,500 credits per month. If those numbers sound steep, you're right: they are among the most expensive in the entire dating app world. So, is dating.com worth an investment? Here, we investigate.
What to Expect on Dating.com
As one of the older dating sites out there, Dating.com has built up quite the reputation over the years. Still, it's not necessarily the right place for every single to mingle. We went straight to the source — Dating.com, of course — to learn the ins and outs of this dating site to help you decide if it's worth your time and money. 
Pro

: It has a large user base.

Spanning 32 countries around the world, Dating.com currently has around 73 million registered users. That means, you have a large pool of singles to choose from. The number just keeps growing: A recent report from Dating.com revealed that 82 percent of singles have turned to online dating due to the current health crisis. If you're someone who travels (or at least you did, pre-pandemic), this could be a wonderful option, since you could probably find someone everywhere you trek. Or, if you live in a major metropolitan city, chances are high you'll have plenty of nearby matches. (It is worth noting that Dating.com tends to be more popular outside of the United States, rather than within the country.)
Pro

: It covers all the bases.

Unlike some apps and sites with a niche focus, Dating.com has something for everyone, whether you're simply looking for conversation, a random hookup, or a long-term relationship. It always means that there are a range of users coming from all walks of life with varying ages, sexual preferences, and desires. The only downside: You might have to dig through the weeds until you find someone who matches who and what you're looking for … but all good things take time, right? A smart way to filter through everyone is to search by keywords, since you are likely to find someone who enjoys your appreciation for fine wine, your love of skiing, or even your sexual fantasy. 
Pro

: The easy interface is simple enough for anyone to understand.

The sign-up process can take as little as two minutes, depending on how in-depth you go. From there, you're led to the main homepage where you click on names and faces, browse through profiles, and decide whether or not you want to start a conversation via the chat box or email function. If you want to tap into your flirty side, you can also like someone's profile or send a wink. That's really all there is to it — no swiping, waiting, or messing around. However, you do need to pay to communicate in any meaningful way, so keep that in mind before you fall hand-over-mouse for someone cute.
Con

: You have to sift through fake profiles.

With a user base so large, there's a strong chance that there are bots and fake profiles aplenty. Particularly because Dating.com doesn't require an email verification to complete a profile, it makes it super-easy (and fast) for untrustworthy scammers and bots to take advantage of the website. To protect yourself, just keep your eyes peeled for anything fishy. Engage in conversations if you like someone to make sure they're legit, and make sure all the details in their profile matches up. That's why it's helpful to go as thorough as possible when signing up, especially when it comes to personal details and pictures.
Con

: The membership credit model can add up.

Here comes everyone's biggest complaint: Dating.com may lure you in without asking you to pay upfront, but to do anything on the site, you have to break out your wallet. Even worse, the credit membership they have in place is extremely pricey. Remember: 1 minute of chat messaging costs 1 credit, which means a handful of back-and-forth conversations may cost your $20 without any success. While, sure, a few buck-a-roos to meet the love of your life may seem worth it, you may end up paying hundreds — if not thousands — only to be fooled by someone with bad intentions. 
Con

: It's, let's just say, old school.

With so many other dating apps geared toward young adults (think: Hinge, Bumble and Tinder) and web destinations with a stellar reputation (eHarmony, Match and so on), you might find that the dating pool on Dating.com is slightly older. And perhaps, full of folks looking for a fling or recovering from a divorce and looking for another love. This may be in your favor, if you're in the same boat. Or, if you're past the age of 50 and/or interested in finding someone more mature, you may find luck. (FYI: There are some younger people on the site, but not nearly as many as millennial-focused sites.)
What Users Are Saying
With millions  — 73 million and counting — members, many have taken the time to share their thoughts on the highs and lows of Dating.com. We've rounded up a few standouts with key points to keep in mind as you decide whether or not to join.
"I like the fact that you can meet people from around the world and have more options. What I don't like is that it can become very costly because you are charged for every activity, unlike other sites with a monthly subscription fee."
"If you have money it's good. If you don't have money to spend just like that…double-check the app before installing."
"I've had enough of gimmicks and fads when it comes to dating. Like who can message who, swiping and so forth. This app appealed to me because it just does what it says: dating. No messing around."
Tips for Success
Whether you're new to online dating or a seasoned pro, there are so many strategies that may help you find what you're looking for — love, we assume — on Dating.com. Follow these helpful tips to up your chances of success.
Find ways to get what you want out of it.
In many ways, Dating.com is a blank canvas, which allows you to have a custom experience that best fits your wants and needs. Looking for a one-stand night? You got it? Trying to dip your toes back into dating? It's a good place to start. Before getting started, think about your end goal and then map out a plan to help you get there, so you can keep your eyes on the prize. Also, if you just want to browse around to see what's out there, it's a great site with tons of profiles to admire. 
Set a budget and stick to it.
And hey, we mean it. Dating.com is far more expensive than other dating sites, but that doesn't necessarily mean it's not worth it. If you decide to go forward to with creating a profile, consider an amount of money that you feel comfortable spending each month on dating and then stick to that budget. It might even force you to get more selective with you to talk to, or be more direct in your messaging, which isn't always a bad thing. 
Be honest with other users.
Since every registered user has a different goal on Dating.com, it's important that you're upfront with potential matches about what you're looking for. Time and money is on the line for everyone involved, so be mindful of that from the very beginning. By doing things this way, you can vet out potential prospects from the get-go, and they can do the same. 
Visit Dating.com
Datezie may receive a portion of revenue if you click a link in this article and buy a service or product. The links are independently placed by our Commerce team and do not influence editorial content. To find out more, please read our terms of use.