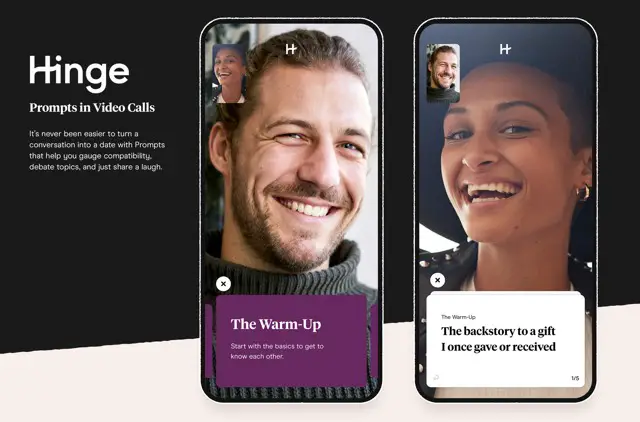 We've said it once and we'll say it again: Video dating is here to stay. Even as states reopen and singles feel more comfortable meeting up for in-person dates, some will still choose to vet out potential matches with video dating — or as Hinge calls it, the "virtual vibe check." Hinge was actually one of the first dating apps to embrace video dating: Back in May of last year, Hinge made it possible for users to make in-app video calls, so they didn't have to turn to FaceTime, Zoom or another video chatting service to take the relationship between back-and-forth messages. 
In fact,  a recent Hinge survey revealed that 65% of users who have tried out video dates in the past continue to do so in the post-pandemic world. But of course, there are many (58%, actually) who still video dating to be straight-up awkward. Two out of three users believe that icebreakers would help ease any awkwardness while on a video date, which is exactly why Hinge recently launched Video Prompts. This new feature works in conjunction with their in-app video calls, letting users  choose from different prompt themes to initiate a conversation with their match.
Here's how it works: 
When a user is on a video call on Hinge, both users will be given the option to open Video Prompts in the corner of their screen.

One person opens Video Prompts and selects one of the eight different prompt themes. Once a prompts theme is chosen, both users will see the same prompt. 

After both users answer a prompt they swipe the screen to the next card and both users will see it.
Some prompts are short and sweet (think: easy icebreakers) while others take singles on a scavenger hunt throughout their house together, but apart. In many ways, Video Prompts are an extension of the Prompts feature on Hinge profiles, which lets users come up with clever, attention-grabbing answers to statements like "Don't hate me if…" and "I geek out on…"
Like it or not, video chatting is going to be a major part of our life — even well beyond 2021. And really, it may help you out in the long-run, especially as far as dating is concerned. A bonus for video dating: "You can skip the long commute and expensive cocktails, while getting a sense of your match's sense of humor, values, and personality,"  Logan Ury, Director of Relationship Science at Hinge, writes in the company' s press release. Plus, video dates tend to reduce the pre-date anxiety and prep time. When it comes to dating, nearly half of Hinge users reported spending double the amount of time getting ready for an in-person date compared to a video date. So, at the very least, think of all the time (and headaches) that you'll save if you go virtual!