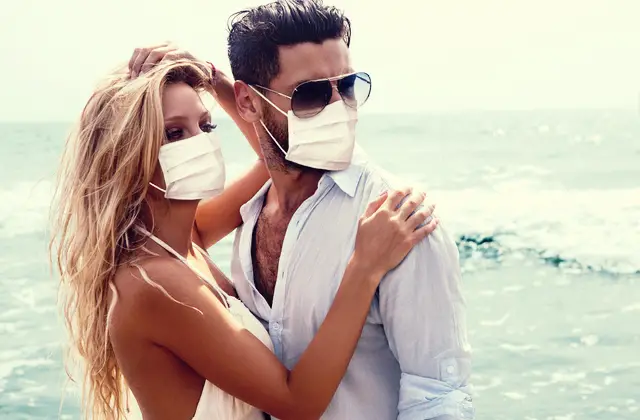 It's been quite the year, to say the least. The pandemic has devastated much of the world, taking away so many things that people once took for granted: daily commutes that allow us to switch off work mode, spur-of-the-moment hangouts with the people we love most, and the ability to go, well, anywhere and everywhere that we please. For singles, it has also taken a toll on their love life (or really, made it completely non-existent).
Many popular dating apps, including Bumble and eHarmony, have pivoted to give people more virtual dating opportunities during this time, but the truth is that so many are still yearning for fulfilling, in-person connections — now more than ever before, actually. In fact, Hinge has seen tremendous growth in user totals since the start of the pandemic. Take these numbers, for example: In Q4 of 2020, global app downloads were 63% higher than the previous year, as recently reported by Insider. 
But now, Hinge users are gearing up for "hot vax summer," a term coined by singles who are vaxxed and ready to make up for the summer that wasn't in 2020. Although last summer saw the most growth in app usage and number of downloads, Hinge founder and CEO Justin McLeod reveals that new data suggests users are looking for an entirely different dating experience in the months ahead. They're ready to commit to something more serious. "We've found at least a third of our users are saying that they have more urgency around wanting to settle down and finding a partner, and more than half of our users are actively seeking that long-term relationship," he recently told Insider.
This very idea plays into the fact, according to McLeod, that many singles are eyeing long-term relationships after spending the pandemic holed up on their own. "I do think for a lot of people who maybe have been dating for a while and then went through the pandemic and went through it alone, they're feeling the need for, I think, a partner and companionship more than ever," he continued. 
Even as people start to feel more comfortable meeting up IRL, McLeod encourages Hinge users to continue to use the app's video chatting option for first dates or in the early talking stages to get to know matches on a deeper, more personal level. "I do think that people will find that it's just really helpful to do a five or ten-minute check that this person is worth meeting up with, before they go meet up in person so that they don't waste their whole evening, walk in the door and realize like within two seconds that this isn't the person that they actually want to spend their evening with," he said.
So, if you're single and ready to settle down with your perfect someone, summer 2021 is your time to shine. It's "hot vax summer," after all!