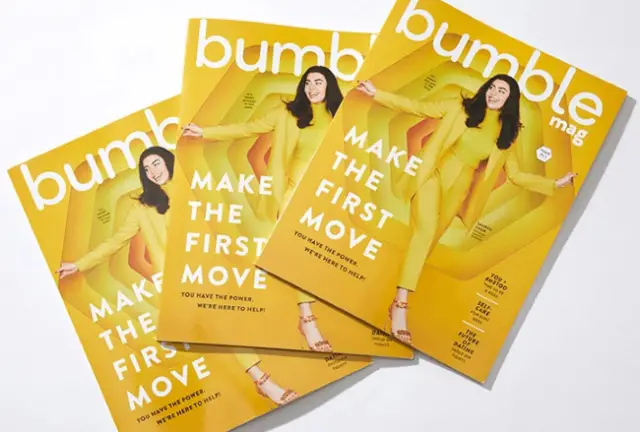 Bumble doesn't want to be compared to its distant cousin, Tinder — but the two apps are often discussed in the same circles. And most singles will download both to better their odds. But as with the best of love (and business) stories, there's a bit of drama: Bumble was started by a former employee of Tinder. She was fed up with the mishandling of internal relationships — and um, the creepy nature of an app that caters to hookups. (One dick pic too many, areweright?)
Instead, Bumble puts the power in the female's court, challenging her to reach out first. This wards away those dudes who only want to send an x-rated image and get on with it — and challenges the ladies to be proactive in dating. A few years ago, Bumble also launched 'Bumble BFF' to help foster adult, platonic friendships, too.
Now, they're setting the bar even higher above Tinder, with a brand spankin' new magazine. And hey, since getting offline is the goal of most online dating users — they're taking this publication from the interwebs and putting it on the shelves.
So why is this cool?
It's the first of the dating apps to go the content route with a physical representation of their industry leadership. While OkCupid has a pretty expansive (and interesting) blog — this magazine offers insider tips, expert-driven content and relevant info to the current single-and-mingling generation. This is taking them from a typical swipe right-and-left platform to a social networking destination that can be used, sure, for finding love — but also travel buddies. Business opportunities. And most importantly: connection.
In their first edition — which is out now — you'll be able to page through tons of cool stories, including in-depth features, trend predictions, Q&As with trusted gurus and real-talk, real-life situations. If you keep up with celebrities and influencers, you'll also appreciate their all-star contributor round-up including Serena Williams, Erin and Sara Foster, Leandra Medine and Jen Rubio.
It won't cost you a dime (while supplies last) and it includes two pull-out posters that can be used for Instagram backdrops. We appreciate the out-of-box experience that connects back to the phone — and we predict more and more dating apps will follow their lead. After all, it's a highly competitive space, considering there's a niche romance app for everything these days, and to remain relevant, they gotta play the game.
Keep on buzzing Bumble — we're watching you.