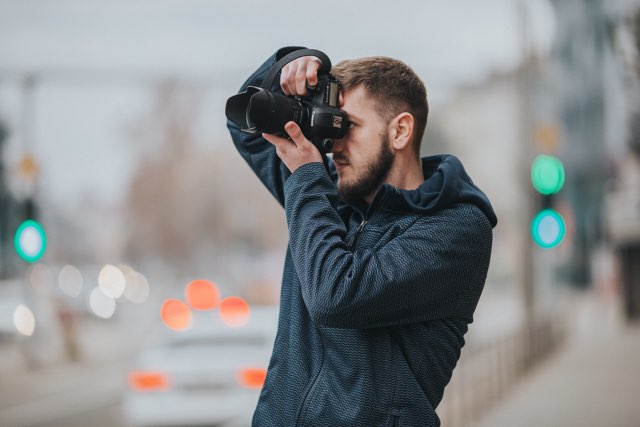 As if finding love isn't a stressful, disappointing and frustrating process enough, modern matchmaking requires online profiles. Though most people can write out basic information — what you're looking for, where you're located, yadda, yadda — selecting images that illustrate who you are is tricky. You want to put your best face forward (quite literally) but you also want to show off your hobbies, interests and upload pictures that warrant a right swipe. More than anything, you want accurate shots that won't have your date doing a double-take when you meet because you look nothing like your photos. Catfishing is a real possibility and the best way to ensure you aren't guilty of this crime-against-singlehood is to be honest from the get-go. 
Here, professional photographers offer the do's and don'ts for your picture strategy for online dating profiles:
Don't take a bathroom or car selfie.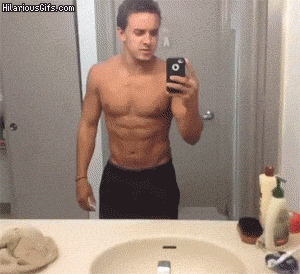 Though selfies have become an everyday habit for many people — they aren't always the smartest choice for Tinder, Bumble and the rest of 'em. How come? Photographer and entrepreneur Victoria Grace McFall says it doesn't send the right message to potential matches. This is especially true if you're posing for the camera in strange places — like the bathroom or while waiting in traffic in your car. Even if the lighting is killer, when someone sees this photo, McFall explains their first impression will be 'This person spends a lot of time taking photos of him or herself for the internet and doesn't have any friends.' Even if this isn't the case, it's always smarter to choose shots that are obviously taken by someone else, which communicates you live an active social life and are well-adjusted. Last thing? Please, never, ever post a selfie where you're shirtless if you intend to find a long-lasting relationship. It's just not classy, McFall notes. 
Do share a photo doing something you love.
Do your friends consider you the brunch expert — and always ask you for the best haunts? Post a photo from one of your favorite places. When it comes to adventure, are you the first one to jump out of an airplane, hike the tallest peak or say 'yes' to a weekend trip on a Friday morning? Show off your on-the-edge lifestyle with your photos. McFall says there's nothing better than a person who is obviously passionate about something and isn't afraid to show it off. Not only will your happiness be evident in your smile, but it makes for an easy conversation starter: "Where are you in the photo? I think it's Table Mountain! I've always wanted to go there. What's it like?" 
And if you really want to be strategic and forward-thinking, McFall suggests posting photos in places you may ask your date to tag along with you — like your favorite restaurant, a park you run in or other hot spots. 
Don't include group shots.
Professional photographer Tegan Montminy has a great rule of thumb: if a person can't instantly pick you out in a group photo — it shouldn't be on your profile. And in general, a massive photo of your 10 best friends or one with your ex-partner (even if you blur their face out) isn't a turn-on to most people. They want to see you — and only you. They also don't want to waste time trying to compare and contrast your friend group to decipher who-is-who. "Make it easy for everyone, and don't be afraid to keep the spotlight on you," she says.
Do go filter-free.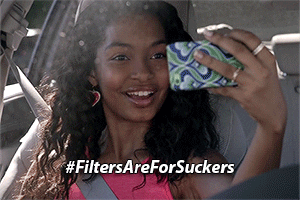 Much like only picking recent-ish photos, putting a heavy amount of filters on your images isn't be truthful or honest with your dates. If you touch-up your skin, use photoshop to hide your belly or some other magical editing app — your date might be disappointed to meet you in real life. Montminy says not only is it deceiving but if it's obvious, you may appear childish or as if you're hiding something you don't want them to see. Those who are who solid in who they are don't feel the need to airbrush, and they want someone who accepts them, filter-free.
Don't use a photo from a year ago.
Before you enter the wacky world of online dating, remember one thing: everyone has parts of their appearance they wish they could change. And because so much of digital courting is based off of a split-second impression, it's super-tempting to highlight those photos that disguise your insecurities. McFall hates to break it to you but the moment you meet in person, well, the gig is up. That's why choosing recent images are always the right choice. You never want to present yourself as anything other than who you are … right now. 
"If you loved your long hair that you chopped off last month and are tempted to include your favorite photo from last summer's epic pool party — resist. Photos less than a few months old should be your goal so that you aren't accidentally misrepresenting yourself or giving the impression of catfishing," she continues. "If your hair cut is different ? Skip the old pictures. If you've gained or lost twenty pounds, embrace that bod and resist the urge to include images that no longer really look like you." After all, the right person will appreciate all of the little and big things that make you attractive.
Do include a full-body shot.
And by full-body, we definitely don't mean naked! Though many people associate these types of photos as X-rated, McFall says these best illustrate what someone will expect when they meet you. While up-close-and-personal face shots (that aren't selfies, remember?) are important as well, an image of you walking down the street, sitting at table having coffee, laying on the beach and so on, make your appearance crystal-clear. These are also the better images to include because you can be much more active and personal with them since you're out doing activities with those you love. 
Don't hide your smile.

Sure, this seems like a no-brainer but that really pensive headshot you took when you first graduated law school? Meh, leave it out. As McFall explains, it's important to put your happy self forward since no one really wants to date a Debbie Downer or a Terrible Ted. The best sort of photo is one that your best friend, sibling or parent snapped of you when you didn't know, where you were laughing without worrying about how you looked. "This candid photo says you aren't living your life just for social media and photographs. It says that you're confident and you don't care if you look perfectly posed. It also says you actually have fun and shows you know how to be present in a real-life moment," she continues. "It also makes someone want to hear your laugh."