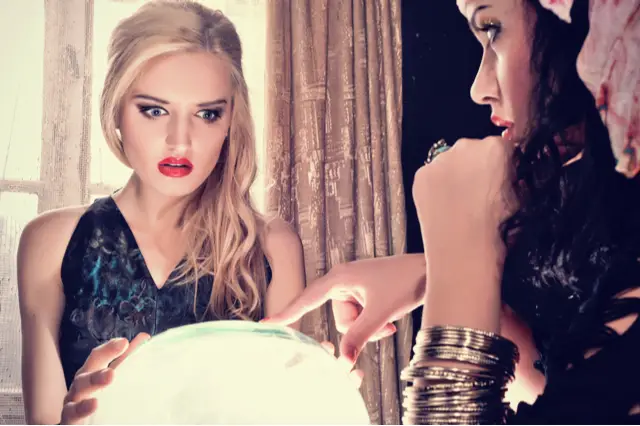 While every year dating shifts, as the calendar turns from 2019 to 2020, it's not merely day one of another 356 days… but the start of a new decade! When you think back to what dating was like in the early 2010s — before Tinder! — it's hard to imagine what finding love will look like in 2030. "The most prominent change in this decade was definitely the rise of social media and dating apps, and the new pros and cons they brought to dating and relationships," explains April Davis, a matchmaker. 
So how will the process transform over the next ten laps around the sun? We asked experts — from coaches to psychics — to predict what's ahead for singles. Here is what they told us:
Friends and family will make connections again.
If you have been begging (pleading, prodding) your community to set you up with a bachelorette or bachelor, you're in luck. How come? The new decade will reintegrate friends and family members back into the dating process, according to head of marketing at Ship, Stephanie Danzi. Though most people have hesitated in the past to bring together two folks, it's becoming more apparent how important support is when you're navigating the tricky pool of eligibility. "Dating can be a daunting experience, and it's a lot easier to navigate when you have your friends and family on your team helping you out. And, it can lead to better results," she continues. "When your friends or family approve of a relationship, those ties tend to persist longer. Even though daters may feel single, they don't have to go at the process alone."
Politics will matter more than religion.
Don't tell your uber-faithful grandma and grandpa but religion isn't playing a huge part in mating these days. In fact, Melissa Hobley, the global chief marketing officer at OkCupid predicts it will only fall lower on the priority list as time evolves. "We found that Gen Z users are more than 2X more likely to say religion is not important to them than Baby Boomers — and this year nearly half of all respondents on OkCupid said they do not identify with a religion," she explains. 
What will rise to the top instead? Who your potential date is voting for. According to recent data from the online dating site, 73 percent of women would not date someone who had opposing political views. 
Singles will become more open-minded.
Swiping right and left has become less of a mission to meet someone special, and more of a pastime. It's easy to become dazed, confused and apathetic about the whole shebang fast. However, Danzi predicts that as the decade continues on, people will start to widen their perspectives. And perhaps, open their mind to people they previously would have rejected. "It's easy to get caught up in trying to find someone who checks all the boxes, but the reality is finding someone you're compatible with is much more complex than that," she explains. This may mean dating apps will need to evolve to include information that digs into values and personalities, and not just photos. 
Online dating on the demise.
On that note, Linda Lauren, a fourth-generation psychic says though there are endless downloads available, more people will hop offline, rather than on. As with any trend, she sees the dating app bubble bursting, and more singles looking tirelessly for a better, more fulfilling alternative. "There will be new ways to date and that will be based more on face to face meetings via introductions from people who are able to clear away the cobwebs of the same old tags, pick up lines, and photos," she continues. "It will therefore be more difficult to be fooled regarding online than before. More dating will be upfront and personal, which can lead to more stable relationship possibilities."
Singles will demand respect digitally.
The biggest complaint — especially from women — is the lack of respect on dating apps. As Danzi puts it: people are reaching their boiling point with bad behavior. From dead-end conversations that never lead to in-person dates to asking inappropriate questions from the get-go, all of that will change starting in 2020. "Ghosting, breadcrumbing, benching, and so on, are going to fade away as we get better at dating. One-third of people say they're ghosted frequently, and they're not putting up with it anymore," she continues. "As a society we're becoming more aware of these bad dating behaviors and we're holding each other to higher standards."
Couples will defy traditional gender roles.
Every happy duo figures out their own rhythm for what makes their relationship work. And most of the decisions between who-pays-for-what and who-cleans-what aren't defined by sex, but more so, by lifestyle. As we inch closer to 2030, Hobley says traditional gender roles will become even less followed. According to OkC data, nearly 80 percent of people think these ideologies are outdated, and 57 percent think it's important to challenge what previous generations created. "People are also finally talking openly about their sexual identities — and I think sexuality is going to become more fluid for many. In 2019 alone, 40 percent of users said they have seriously questioned their sexuality, while 30 percent of women and 11 percent of men actually changed their sexual identity after self-exploration," she shares.
People will take a back seat on social media.
A quick scroll through Facebook or Instagram, and you can likely count a dozen engagements, marriages, babies and 'date night' photos. Social media is often the third party in a monogamous relationship, but that'll change in the decade ahead, according to Davis. No matter if you're coupled up or flying solo, your rants-and-raves will no longer be open season on social platforms. "People seeking partners who want to form a deeper connection, and couples in happy relationships will simultaneously keep their dating life and relationships off social media in an attempt to counter the dating culture that has existed since the rise of social media," she shares. "This could be a result of the eventual push back that usually occurs in every sector when a way of doing things has been popular for so long and people are yearning for change."
Singles will be more hopeful.
A kiss at midnight, a sip of champagne, and suddenly, the world seems different. When you enter not only a new year but a new decade, hope is bound to take center stage. Relationships author Elena Murzello says people will feel as if they've been given a clean slate to be really specific — and encouraged — about what's ahead. "With the new decade, people aren't taking their past experience/history lightly. Read: They know what they don't want and this time they are sticking to it," she shares. "The definition of insanity is doing the same thing and expecting a different result. Not this decade. We aren't compromising."