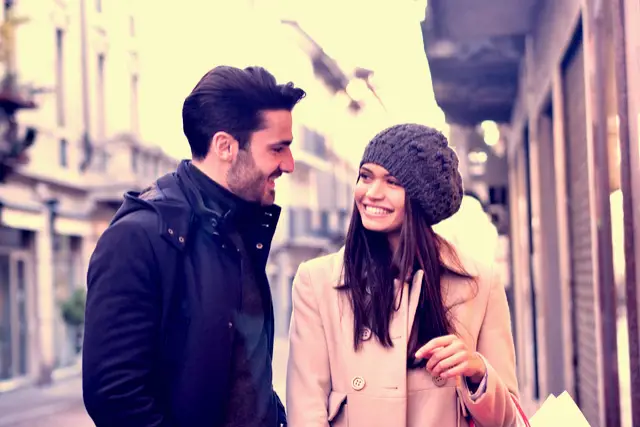 When you know what you want (what you really, really want) and you think you found your right kind of spice, your nerves could get the best of you leading up to a first date. And with so many dating apps that often cause lots of ghosting and disappointment, folks who have been dating for a long time without luck could easily become gun shy. Psychologist Dr. Yvonne Thomas explains most people find first meet-ups confusing and difficult, full of pressure and well, not exactly an exciting experience. This is a major misfortune since hey, the hope is to one day go on your very last first date — and delete those swiping torture chambers once-and-for-all. Though an endless sea of profiles can make you feel like you have options, ones that match all of the characteristics and criteria you're looking for takes practice, failing and of course, lots of patience.
One way to minimize the headache and set yourself up for romantic success is to be more strategic about your first date. Or more to the point: pickier about who you are willing to give even an hour of your time. By being selective, doing your research and being mindful of who you're rolling out the red carpet for, you save yourself heartache, fatigue and well, money.
Here, love gurus provide the essential step-by-step guide to going on a first date:
Step One: Scout 'em out.
And nope, this doesn't just mean swiping right, saying 'hi' and suggesting a beer. Dr. Thomas says all too often, singles are quick to hop off an app and meet in person, without actually getting to know some basic information about their prospect. She suggests chit-chatting back and forth with your thumbs, or if you're brave enough — gasp! — picking up the phone. With a bit of extra effort, you'll quickly be able to know if you vibe with the other person and if their company is worth your investment. Even though it is essential to not rush through this process, you also don't want to drag it out too long, either. "This step shouldn't go on too long — usually not longer than a couple of weeks, if possible — since you don't want to get to emotionally invested in a person you haven't even met yet," she warns.
Step Two: Look For Cues — and Take the Lead
Though we recently learned that women are more likely to make the first move for a first date — there's a chance a sly lady will subtly drop hints about her desire to meet you. If this is the case, Dr. Thomas suggest acting fast and being honest. "If you are interested in him or her, don't play hard to get.  Be real about you wanting to meet him or her, too," she continues. "if the other person hasn't initiated the idea of meeting for a first date, you can lightly suggest that it would be nice to meet. If the other person is also interested in you, hopefully he or she will let you know that, too." Since you don't want to be in a texting relationship only, being brave enough to put yourself out on the line will — hopefully — reap rewards if the feeling is mutual.
Step Three: The Asking
Here comes the part where most men start to stammer. Take a deep breath, think of places you enjoy and will set the tone for a could-be relationship… and go for it. Sex and relationship therapist Courtney Geter, LMFT, CST says men should suggest a meeting and clearly define the date, as well as expectations. In other words: if you aren't looking for a long-term commitment, cut to the chase. And if you can't exactly afford a four-course tasting with wine, suggest a more cost-effective option that you're comfortable with. "You don't have to divulge every detail. A simple 'I was working for a startup that folded' is enough to let the person know you had a career goal that didn't work out. It also allows them to show empathy for your situation," she explains.
When you can, talk about a place you'd both like to go and choose an activity that meets your shared interest. Though you should definitely strategize a spot that allows you to speak without screaming at one another, if you're fans of craft brews, find a local hub. If you're running fans, go for a job. No matter where you go or what you do, the point is to be clear with time, date, intention and purpose. "Communicate directly and honestly with each other so that plans are clear and to each other's satisfaction," Dr. Thomas adds. No one should have question marks lingering going into date number one.
Step Four: The Build-Up and Check In
Sadly, you can't meet up until a week from Tuesday. So now, you stop all communication, right? Wrong, according to Geter. If you want to keep the sparks flying and the communication flirty and fun, make sure to chat every day. Even if it's only a brief check-in, you will keep her interest if you're fluid with discussions and show a real interest in who she is and your possible future together. And the day before the big first date? Geter stresses the importance of optimism. You could say, "I'm really looking forward to meeting you tomorrow! I'll let you know when I arrive so we can find each other" or "I reserved a table under Ben Smith in case you arrive before I do."
Step Five: Get Excited — and Calm Down
Seems counterproductive to get your energy up and also calm down, but Dr. Thomas says this all goes into setting your mood and perspective for the date. If you refuse to get even somewhat hopeful, you may arrive with a sour attitude that no one will find attractive. And if you are so full of nerves that you can't speak? That doesn't bode well for your chances, either. "While getting ready for this first date, it is very important to go into it with a healthy, relaxed attitude.  Do some deep breathing to calm down before you arrive at the destination. Look at this as a 'meet and greet' opportunity in which you are going to have no expectations," she explains. "Be yourself when you are meeting this other person; otherwise, you nor the other person will really know if you two are a good match or not." 
Step Six: Show Up — and Be On Time
Repeat these three little words after Geter: Be. On. Time. There's nothing quite as frustrating as being amped up for a meet-up and your date shows up half-an-hour late. "Each of you has taken time out of your busy schedules for the other. Show respect to the other person by showing up on time," she stresses. If you're delayed for whatever reason or can't make it, try to give as much notice as possible. Though there is no guarantee a date will give you a second-go for bailing on them or showing up tardy, the more you communicate, the better luck you'll have.
And if you do arrive right when you're supposed to and lock eyes? Well players, let the game begin.
Anxious about going on your first date? Be sure to also check out our Step by Step Guide to Going on A First Date and our Modern Answers to All Your First Date Questions