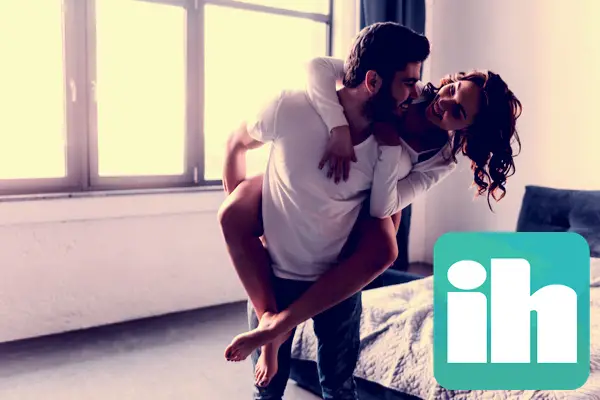 Our Rating
Pros/Cons From the Experts
Fast Facts
Pros


Number of Members:

210,000 users a month (as of 2017)

Founded: 2001
Countries Available:

United States,

France, South Africa, and the United Kingdom

Men/Women Ratio:

N/A

Price:

Two-day subscription starts at $8. After two days, the membership automatically renews and costs $39.99 per month.
Sometimes you're in the mood for romance. Sometimes you're just looking for a good time — no strings attached. That's why iHookup exists. This popular dating site is there for you if you want to — well — hook up. More straightforward than traditional apps and less awkward than drunken bar encounters, the site describes itself as "the only place you should be if you're into casual dating." 
For singles — no matter the age or location — looking for a casual fling, iHookup is the best bet. And as you've learned (the hard way), casual sex come with a price: After the initial two-day membership, it's recommended that you shell out $39.99 a month to reap the benefits a.k.a. hot and steamy hookups. Well, if you want it, you want it … right?
If you've considered signing up for iHookup or are on the hunt for a new way to find your next great hook up, find out all the details first. 
How to Sign Up for iHookup
Compared to other dating sites, the signup process for iHookup is actually quite simple. Since there is no app option available, there's no downloading involved. Simply, head straight to the site and register an account. You'll answer the standard questions about age, location, and gender preference, but you also must designate whether you're interested in casual encounters, friends with benefits, discreet romance, online fun, dating or activity partners. After registering and confirming your account via email, the first (of many) recommendations to purchase a subscription package will appear. You can bypass this by clicking on top of the menu, but as you'll soon see, it's very hard to find a match without a paid membership. From there, you can fill out the remaining section of your profile with more details and photos, or just head straight to the action.
What to Expect from iHookup
Even if you're looking for a post-break up fling, iHookup might not be the right dating site for you. With such a specific demographic (er, people who just want something casual), there are no guarantees what you'll find once your profile is up. Before you commit, we did some digging to see what iHookup is really like. Here's what we learned: 
Pro

: the intention of every user is very clear.

In the sign-up process, all users are required to select what they're looking for, ranging from friends with benefits to activity partners (whatever the heck that means). While each user is able to select all six options, most don't, which means it's very easy to know exactly what people are looking for before you decide to make the first move. 
Pro

: everyone on the site is there for the same reason as you.

It's simple: iHookup takes the guesswork out of casual dating. Chances are that everyone else on the site — They reportedly have 210,000 active users monthly — signed up for the same reason as you: They're looking for a fun, flirty fling. Like friends with benefits … but heavy on the benefits, if you catch our drift.
Pro

: it's more affordable than other dating sites.

This one's up for debate. If you sign up for a quarterly or yearly subscription to other popular dating sites, it'll only set you back $30 or less a month. The month-to-month memberships? They're pricey. For example, Match.com costs $59.95 a month. That means iHookup's $39.99 monthly membership is actually less expensive than competitors. 
Con

: the site isn't very user-friendly.

Just signing up alone can take 30 minutes. And no, it's not because of a lengthy questionnaire a la Wingman or eHarmony. In iHookup's case, the new account simply wasn't recognized. Once we finally made it into the site, we couldn't even focus on what we came here for (ya know, sexy singles) because of the number of ads and videos in my feed. That says it all, really. 
Con

: there are more advertisements than people.

A common complaint with smaller dating sites like iHookup is that there aren't enough active users to go around. iHookup makes up for this limited interaction by filling the site with ads upon ads of half-naked men and women — and, as you'd expect, it doesn't fill any void. 
Con

: you basically have to sign up for a paid profile.

Even though iHookup is advertised as a free dating site, the only way to really meet someone is by paying for a membership. Plus, the minute you login (and every moment afterward) there are messages popping up to ask you if you'd like to upgrade. If you want any success, I strongly advise that you do. 
What Others Are Saying About iHookup
"
This isn't a dating site on which you're likely to find your future wife, rather it's one where casual hookups are much more easily obtained." –
AskMen
"
It really has the potential to be great, but the fact that it's poorly advertised and hosts crappy ads is a recipe for a bland site with a less-than-stellar user base. However, if you can ignore the obnoxious ads popping up every second (and don't care that you're on a site that even needs to use those), you'll be fine." –
Mashable
Tips for Success on iHookup
So, you're deciding to go forward with iHookup? Follow these tips to ensure that you have the best experience possible (and happy hooking up!): 
Know what you're getting yourself into.
If you're looking for passion-fueled romance, click out right this second. There are plenty of dating sites out there geared toward traditional relationships, but iHookup isn't one of them. Leave the romance to the Match.com's and Zoosk's of the world, and let iHookup be the place for finding flings, steamy hookups, and so on. Before creating a profile, think about what you're really looking for and go from there. Because you don't want to be that person who backs out of a hook up on a site that specializes in them because you're not into it. That's just not how it goes.
Be weary of fake profiles.
Dating sites are constantly trying to find ways to get rid of fake profiles, but there are always a few that slip through the cracks. iHookup is notorious for them, unfortunately. Top tip: Keep an eye out for a tiny "SH" on a potential matches profile because it's actually a Sweetheart, a fake account set up by iHookup.
Know what you're spending.
Because you will be charged ASAP, it's important to be mindful of the nitty-gritty payment details. Though it isn't exactly a fun part of mingling, budgets are a serious part of a financially-stable life and you don't want to rack up debt on a whim. We say to give this sexy site a try for a month, and if nothing comes of it, make sure to cancel quickly. 
Visit iHookup
Datezie may receive a portion of revenue if you click a link in this article and buy a service or product. The links are independently placed by our Commerce team and do not influence editorial content. To find out more, please read our terms of use.