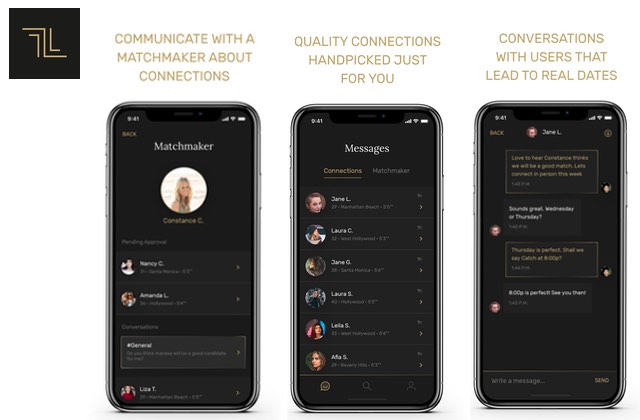 If you have been single #forever, there comes a point where you'd try anything to meet someone semi-normal. In fact, during the eight-year period where I was mostly solo, I indeed, did it all: psychic readings, all of the dating apps and websites, asking pals to set me up, speed dating, group dates and even once, a matchmaker. Because I'm a journalist I was able to test out the services of this ancient practice pro bono, but for those who aren't quite as lucky, matchmaking comes at a super-high cost. One of which, most people can't afford. Though I'm taken now (finally!), if I wasn't, I would be testing out The List, a new dating app, ASAP.
Founded by Constance Curtis, this Southern California-based app offers real-live matchmaking. With a background in planning weddings and an active player on the mingling scene, she saw a major flaw in matchmaking: it was hella expensive. And inaccessible. So, she came up with a service that drives the cost-down, eliminated the common dating woes and provided hopeful romantics with quality, handpicked matches.
"My vision for the app came from my own personal experience and the problems I've encountered from online dating. It was also fuelled by the frustration that traditional matchmakers charged an average of $14K," Curtis shared in an interview with Datezie. The concept of a budget-friendly love guru on demand must have clicked since The List raised $225K in a seed round last year, and is now on its way to collect another $500K in a second this spring.
How much does The List cost? Not a dime. It's free to download and create a profile — but you must be located in SoCal for now. "By being part of our free pool, it makes it easy for our matchmakers to find you and consider you for their client. We've also reversed the role and unlike other matchmaking companies, we let our free pool see who we represent," she explains. "If a free member in our pool thinks they would be a good match with one of our clients, they can 'request to be considered' by sending the client's matchmaker a message for $1.99."
If you want to upgrade your membership to the elite status, you'll pay a one-time $2,000 initiation fee and then a $99/month subscription. If that seems steep, it's actually not: competitors of The List such as Three Day Rule, It's Just Lunch and Bevy have services that start at $8K and skyrocket to $25,000. The elite subscription to The List is a fraction of the price and provides a personal matchmaker who searches our database as well as offline on your behalf. "Our goal is to disrupt the traditional matchmaking market," Curtis shares.
We think she might be on to something. Try The List on IOS (The Android version is coming soon).