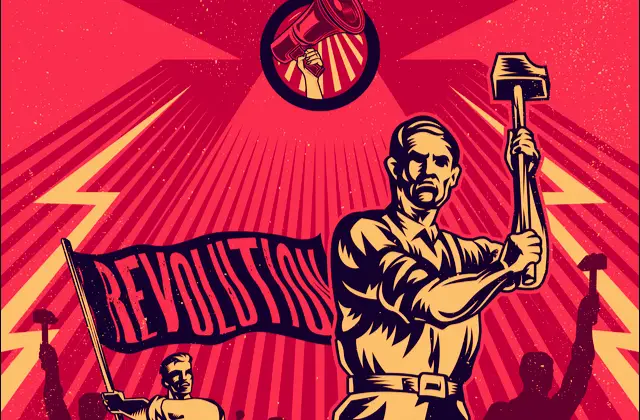 Entrepreneurism is often sparked when an inspired-someone pinpoints a hole in the market. Whether it's a void, a frustration or through viral fanfare, taking advantage of a trend is the best way to get your idea heard — and well, funded. In a current environment that's highly political to say the least, a new Twitter and Instagram account has become a matchmaker for anti-capitalism. In fact, if you're against the man — no matter what that means to you — this might be the easiest way to find someone who is equally as fired up as you are.
It's a simple process: leftist singles submit 280 (or less)-character bios, all of which are meant to describe the values that mean a lot to you… and ones you are wholeheartedly not compatible with. The idea is to pair with someone who shares your fundamental truths — and is willing to go to bat for 'em. Many touch on gender dynamics, religion or political affiliations, racial discriminations and beyond. In other words, you need-not-apply if you aren't forward thinking AF.
Here's an example bio to get your juices flowing: "U can't spell BDSM w/out BDS! Libertarian socialist (28, she/her) seeks similar (27-35, he/him) to join forces against non-consensual power dynamics (capitalism, white supremacy, etc.) while exploring consensual ones as friends or more. Send me yr fave song."
Or another: "A non-binary 'baby anarchist'. A tad religious, super queer, early 20s. Dumb brain w/ social anxiety impedes me from mtg people the oldfashioned way, so looking for friendships and more here. ❤️running, coffee & lavender. Send pics of yr pets *woof*."
If this type of experience reminds you of old fashioned classifieds, that's because it's supposed to, since the two female founders — Marissa Brostoff and Mindy Isser — were inspired by the concept. First noticing this Insta account for its emphasis on the LGBTQ community, they decided to take their own approach. And believe it or not, the two were internet pals who never met in person until recently, even though they both call Brooklyn, New York home. During a time when singles aren't sure on which side of the fence eligible bachelors and bachelorettes stand on, Red Yenta offers a place of solace, allowing folks to know they're only going to be matched with open-minded individuals.
How is it going? Well, no love has been found — as far as they know — through their matchmaking service quite yet. However, plenty of connections have been made, as users are encouraged to slide into the DMs if they're interested in someone profiled on Sundays, even the pair post the digital single ads. For those interested in being profiled, simply send your bio to @redyenta and you could be featured.
Though the verdict is out on how effective this particular account will be, one thing is for sure: online dating will continue to become more and more niche. As people become more acutely aware of what they want, what they need and what matters to them in love, generations of singles will seek out those services, apps and platforms that give them the best pool of options. Left or right, yenta or not, whatever your style, chances are high there's a community out there just waiting for you to sign up.