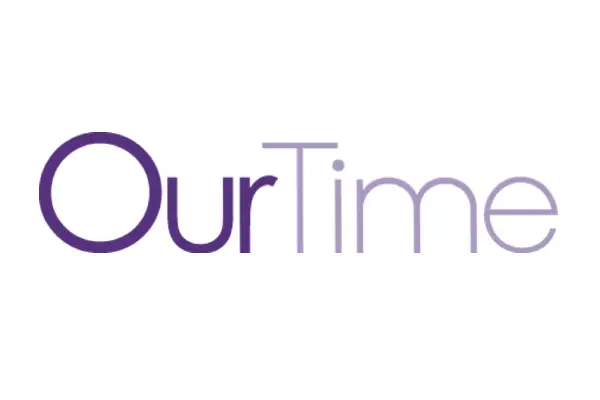 Our Rating
Pros/Cons From the Experts
Fast Facts



Number of Members: 1.5 Million users in the U.S., 180,000 active weekly. Touted as the nation's largest dating site for the 50+ crowd.
Founded: 2011
Countries Available:United States and Canada
Men/Women Ratio: 55 percent women, 45% men
Price: Free to join with full access upgrade for $34.96/month, "standard" six months for $95.76 ($15.96/month), or "value" six months for $119.76 ($19.96/month).
For many people who have made it over the hill—and then some—the very concept of digital dating seems foreign. Whether their kids, their grandchildren, their physical therapist or someone else in their life talks them into trying their luck in love online, the process is different for those in the 50 or older crowd. Instead of downloading whatever is the trendiest, it's smarter for senior singles to choose the best senior dating site to caters to their unique needs, values and desires, like OurTime. When you think about this relatively-new dating site, consider it the Match.com for older folks. Since people in this age bracket could be looking for romance, another marriage, a friendship, a travel buddy, or good 'ole fashioned companionship, OurTime is structured to help every user discover what they're in the market for. Instead of some sites that offer an endless pool of matches, OurTime takes your data and creates a specialized list of people you might click with, and then allows you to explore profiles on your own. With an estimated one million active 50 (or 60 or 70)-something hopeful bachelors and bachelorettes, it might be worth your time and investment to sign up. Here, our guide on everything you should expect.
How to Sign Up:
There are two ways to approach joining OurTime: quick and easy, or lengthy and thoroughly. For the most effective dating experience that leads to in-person meet-ups, we suggest the latter, but it's up to you on how much time and energy you have to spare. After visiting their website or downloading the app, you'll be prompted to go through a few steps that include sexual orientation, your location, your birth date, your email address and of course, the usual username and password. From here, you will be prompted to add an image and complete a bio, but it isn't necessary if you want to wait until you have time to think about it. Last—but not least!—you'll come up with a tagline that describes you and what your purpose or goal is on OurTime. This is a lot like Match.com, if you've ever been a member. After you've completed all of these tasks, you can start searching right away.
However, if you would like to go the extra mile, you can make your profile more robust by adding up to 10 photos, answering multiple-choice questions, open-ended inquiries and beyond. Don't be too worried or intimidated by this additional work, since they don't get too intimate, but more so, are attempting to get a sense of your passions, interests and hobbies to better pair you up with someone special. This is all included within the free version of OurTime, but if you'd like to upgrade to a paid account, you'll see more features. These include enhanced search, insight into who likes you, and better ways to communicate beyond messages, such as texting or calls, to name a few.
What To Expect On OurTime
Whether you're going through a divorce, were recently widowed, or you didn't find the right person in your youth, OurTime can be a helpful and encouraging place to seek and meet a partner. Like with any dating website though, there are pros and cons to be mindful of. Here, a few to consider:
Pro

: It's a catered crowd.

We can't say this enough—and neither can the experts!—having a catered crowd makes a huge difference for those who are serious about dating. You might find a handful of matches on Tinder, some on OkCupid and even more on Match, but if you specifically want someone who is past the age of 50, psychologist Dr. Yvonne Thomas, Ph.D. says there's no better spot than OurTime. It might seem obvious but Dr. Thomas reminds singles it goes both ways: you join because you want someone in your age bracket, and your match joined for the same reason. This makes your chances of compatibility that much higher.
Pro

: There are many ways to interact.

Every dating site has their unique way of pairing people up—from personality tests to curated content, in a competitive field, standing out can be impactful. Dr. Thomas shares for the 50 and up demographic, having multiple ways to interact with members and matches makes it less likely folks will leave. With OurTime, you not only receive 10 recommended could-be-loves-of-your-life, but you're also able to search on your own. And once you have found someone you're intrigued by, there are many ways to chat with them (if you have a paid membership that is). With ConnectMe, you can take your conversation and budding banter offline with a phone call or a text, all while keeping your number hidden. This allows you to scope out if someone is a chemistry match for you, without running the risk of a stage-one stalker impeding your phone. For 50+ singles who are worried about privacy—or can't stand to text for days beyond end—this is a solid feature.
Pro

: Their matching system works.

…if you're truthful that is, Dr. Thomas reminds. "OurTime allows for its members to specify who they are and the kind of person they are looking for, along with ranking some interests, such as cooking, movies, reading, and live theater. They also  ask about characteristics including how romantic and patient they are. If these are all answered honestly, a member can see how compatible he or she may be to another member," she continues. Remember, this part of the profile process is optional, but if you're really looking for someone to build a life with or spend time with, it's essential.
Con

: …You'll only find those 50 and older.

Wait, that was a pro, right? Yep—but that doesn't mean it isn't a downfall, too. For those people who are fresh out of a divorce or a long-term relationship, understanding exactly what you want is discovered through exploration. While you think you might want to be with someone who is around your age, you could be energized by someone younger who inspires you in a different way. Or, the type of people you want to meet wouldn't sign-up for a site with specifications. Whatever the case, Dr. Thomas shares a downfall of OurTime is that it can feel limiting to some singles. Since there is a free version, it's worth a shot to see if this is a good or a bad thing for your lifestyle and dating preferences.
Con

: A lot of members window shop.

It's the advice you've heard and given—but Dr. Thomas says the app is set up to foster a 'grass is always greener' mentality. On your profile and homepage, you can see who you've liked, who has liked you and how you've interacted with various members. This is a helpful database, sure, but it can also give you the ego boost you need, without much effort on your part. On OurTime, so people are mere window shoppers who don't make an active effort to get offline and meet up in person. Though this is the case on any dating website, it might be more so with an older crowd, who isn't as mobile as younger generations.
Con

: Ghosting is real.

Even in the 50 and older demographic, people bailing out of the blue happens more often than you think. Referred to as ghosting, you might have to Google this dating term or ask your grandchild about it, but with so many active members, it's normal to strike up a conversation with someone, only for them to flat-out disappear on you."Members can lose interest or get distracted by so many choices that it may be difficult to connect with someone or find someone who wants a serious relationship. People can suddenly disappear with no further communication or explanation," Dr. Thomas warns. To lessen the odds of this happening, consider searching by 'most recently active' and trying your best to set up a date sooner than later, so you aren't left hanging on what could have been.
What Users Are Saying
Don't take it from us—take it from the OurTime users! Often the best source of reputable information about an online dating hub are people who have been there, matched that and found (or lost) love. These honest reviews set the record straight:
"Not the most user friendly site, and with all online sites there are scammers. My only real issue is not being able to see older messages when writing new ones. I've been on the site for 2 weeks and have met 2 nice ladies."
"
The dating site OurTime is a scam site, the site sends messages from you saying you're interested in someone. My membership has had to be reset several times to nonrenewal, and the site sets it back to renew, they scammed my credit card for another month, and my month since I've joined won't even be up for 5 days. Most messages are from fake members trying to get your email address."
"I've tried a lot of these dating sites and the people on here seem better than most. I like that I can instant message people. My IM seems to freeze up a lot. Although many meetings confirmed that people don't update their photos at least they vaguely looks like their pictures. My suggestion is to do more advertising so we get new people and I'd like to search 50 miles radius but exclude certain cities."
Tips For Success On OurTime
Even if you're retired now (lucky you!), applying strategy to dating as you did in your career is the best route to take to meet someone remarkable. These get you started in the right direction.
Be honest.
It goes without saying—especially if you've been married before—but the foundation of any relationship is built on trust. From friendships to business partnerships, knowing you can put your whole self into another person makes you more comfortable and of course, happier. That's why Dr. Thomas says with OurTime, be upfront and represent yourself authentically. Otherwise, you'll end up eating your deceit. "It isn't healthy or fair to misrepresent yourself and, upon meeting each other, it will probably be very apparent and can often immediately end any possibility of a relationship," she shares.
Decide what you want.
…before you sign up! Since OurTime caters to marriages as much as it does to friendships or casual encounters, you don't want to lead anyone on about your intentions. Dr. Thomas says to ensure your profile clearly articulates what you're in the market for, and what you aren't ready to explore. "This way, you can vet out prospects who aren't looking for what you are from a relationship and not waste each other's time," she adds.
Be bold—but don't drag it out.
Both men and women should feel empowered to make the first move on OurTime with messages that hopefully lead to a stimulating exchange. However, Dr. Thomas says it's better to not elongate the process of seeing if someone is a match. Especially since the 50 and up crowd likely doesn't want to type forever, using the call feature or setting up an in-person date sooner than later will keep you from feeling disappointed or getting burnt out quickly.
Visit Ourtime
Datezie may receive a portion of revenue if you click a link in this article and buy a service or product. The links are independently placed by our Commerce team and do not influence editorial content. To find out more, please read our terms of use.