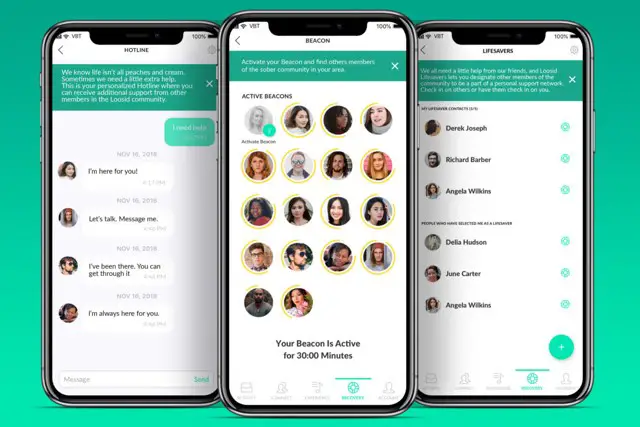 Think about the last three first dates you went on? Where did you and your could-be partner meet up? If you're like most singles — especially those calling major metros home — it's likely a bar. Or a pub. A speakeasy. A wine lounge. However you want to call it, the keyword of most initial meet-ups is booze. Not only is it more casual than a five-course tasting menu, but a bit of liquid courage can go a long way in helping you reveal your most authentic self. However, a suit of liquor (or brewskies) can also be a downfall if you go overboard, tempting you to kiss a little deeper and be a bit bolder than you normally would at such an early stage.
And for those people who actually struggle with alcohol or consider themselves recovering alcoholics, finding love has an additional hurdle. After all, you probably don't want to admit you're part of Alcoholics Anonymous when you're exchanging basic info on date number uno.
That's where a brand spankin' new dating app — Loosid — is coming to the rescue, making dry romance a thing. Everyone who joins this up-and-coming community is committed to going on dates that don't center around drinks. Appropriate for those who classify themselves as former alcoholics or those who want to want to meet the love of their life soberly, this app suggests healthy alternative and provides resources for a zero-booze lifestyle. Considering Loosid's website claims more 100 million people choose sobriety — for various reasons — the market is a vast one.
The app itself was founded by MJ Gottlieb, who is a recovering addict. He understands how tough it is to be single and also battling this disease, and wanted to make sourcing a support system that much easier. Instead of happy hour rounds or splitting a bottle (or three) of vino at a local haunt, Loosid suggests yoga, CrossFit classes and other active or wellness-centric ideas that foster champagne-free sparks.
If you want to give the app a go, make sure to come to the messaging plate with lots of dates in mind. Here are some that help you connect and well, have a killer time, too:
First date: Roller skating or ice skating
Dependent on season, this date keeps you on your feet and on your game! Because you'll be doing laps for the first time since you were a kiddo, it's natural to hold hands or lean on one another for support. Without the need of a tequila shot, you could feel woozy all on your own.
Second date: Coffee tour
Maybe not ideal for a first date, but definitely for a second, look into a local coffee tour in your area. They'll walk you around artisan crafters, detailing the grinds of lands far away. Even if you only have a taste everywhere, the time you spend walking and talking — paired for the burst of the java — will have you buzzing together.
Third date: Volunteering somewhere fun and engaging
Like the dog park. Or a kickball league for inner city youth. The idea here is have a lot of laughs, get your heart racing and watch each other in the moment. Not only does philanthropy tell you a lot about your partner's values but it's a nice way to contribute to your budding relationship and the community, too.