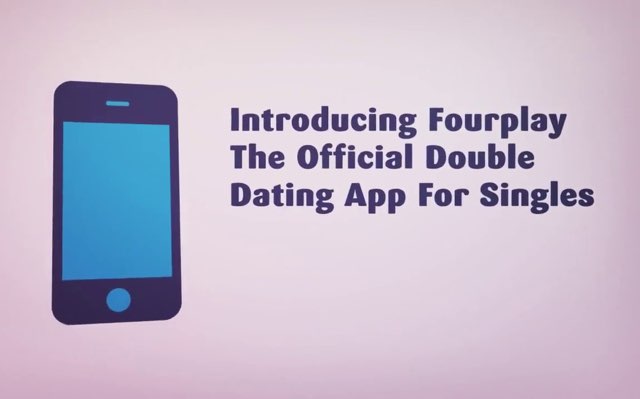 Though online dating is normalized and far more common today than it was ten years ago (or even five)—there is still something intimidating about meeting a stranger. After all, with horror stories about folks catfishing matches and lying about who they are, it's easy to jump to the worst-case scenario and freak yourself out before you ever leave home. What would be a better—and perhaps a more exciting and pressure-free—experience is a double date. 
But that wasn't an option… until now. 
We would like to introduce you to Fourplay, a new app that matches pairs of single friends. The idea came from a familiar story: two gals in New York City who didn't find the dating scene fun, and at time, digital swiping to be terrifying. As a joke, Julie Griggs and Danielle Dietzek created a shared profile on popular apps and were surprised to receive lots of interest from men who also wanted to go on a more relaxed, strength-in-numbers date. 
This is when the idea for Fourplay started to brew: could there be something here? In an interview with their alma mater, Penn State, Dietzek said they realized Fourplay would not only make dating more enjoyable but safer, too. "You're going to be there, you're going to have someone there who knows you, who has your back, who is there to make sure that the date ends smoothly without any problems."
So how does it work? Pretty much how you would expect. Each person signs up separately and then can join together in one (or join several) teams of two. From there, you swipe on other teams until you find an intriguing pair. For now, the app is completely free and available in the App Store and Google Play. 
Griggs describes the vibe of the app as much more chill and one that leads to better conversations and connections. Hanging out with friends takes some of the anxiety out of the whole dating process, and creates a positive environment. "Ours is a really good mix of being lighthearted and goofy, while also taking something like dating and your sexual health very seriously. I think that we're a really good mix of being fun but also being socially responsible," she shared with Penn State.
The only thing they can't quite predict, of course, is what to do if you and your pal end up liking the same person. Perhaps there's a way to battle it out? First come, first swipe? Only time will tell.
What do you think? Would you try Fourplay? Tell us in the comments.