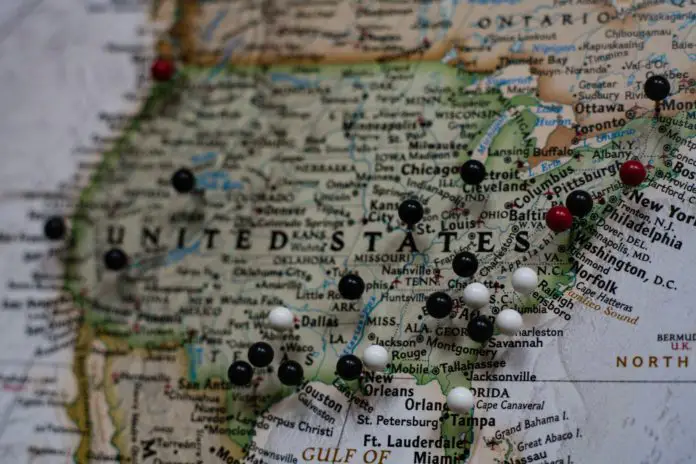 If you live in a bubble on either side of the country — looking at you New York and Los Angeles — it might be hard to fathom how the rest of the states approach, well, anything. Though we won't get into the wormhole of politics, there is one area of interest that might fascinate you on its diversity across the country: dating apps.
Most people have their go-to download — from Tinder to Zoosk — where they source all potential partners. However, as a PCMag survey recently found, your GPS location make a major difference in what digital destination is the most successful for your efforts.
In other words: if you want to find love (or a hookup or a threesome or whatever you fancy) — you should base your dating app of choice on your region. Here are some interesting findings from PCMag's research:
Tinder reigns supreme.
While this ever-popular app definitely gets a bad rap for its abundance of unsolicited x-rated photos and as a hub for casual encounters, there are also plenty of marriages that have resulted from the one-and-only Tinder. Though those who are tender-hearted need-not-apply, plenty are giving this flaming app a try. In fact 27 of the 50 states reported it as the top download. To be fair, people are also looking for a serious somethin' somethin', with 17 of the 50 states picking Match as their number one.
The 'other' dating apps fight for the numbers.
While it's important to take the findings with a grain of salt since it only surveys a select pool of singles, it's surprising that 'other' swiping apps don't get as much usage as Tinder. In fact, on two states (Missouri and Oregon) selected female-first Bumble as their fave. And only two — Utah and Maine — gave Plenty of Fish some credit. Even lower on the totem pole is Zoosk and OkCupid, with only 5 percent of usage across the country.
A third don't use dating apps at all.
Considering it feels like everyone and their brother, sister, aunt and best friend has found their partner online, the concept of going rouge offline seems silly. Maybe not, if we take survey findings into consideration. Of those who participated, 34 percent shared they don't use dating apps — wait for it — at all! For those who can't get behind playing a glorified version of 'hot or not' to meet the love of their life, this is good news.
Our best advice though? The more you use dating apps – or any source of matchmaking — the higher your odds of finding a partner. Regardless of which digital (or not) platform you prefer, dedicate the time and energy, and make your intentions known.