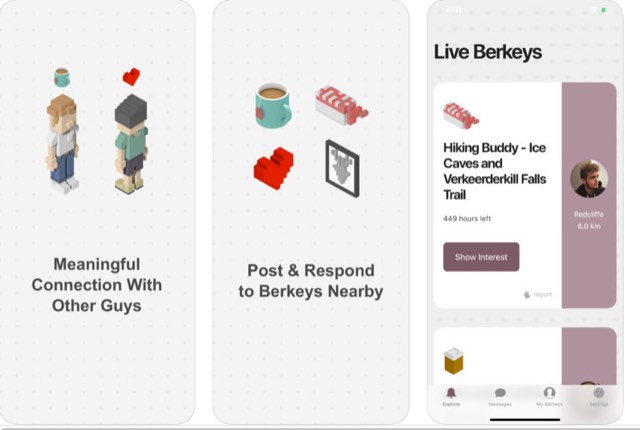 For gay males looking to find love, online dating options are — to say the least — a bit scarce. Sure, there are plenty of options that serve the hook-up culture (looking at your Grindr) but very few make it easy to find a meaningful relationship. And while OkCupid is legendary for being inclusive to all orientations, kinks and curiosities, and Match welcomes anyone, there's yet to be a dating destination that's for LGBTQ members only.
Until now, that is. Enter: Berkey.
Launched earlier this year, the goal of this new download is to foster long-term relationships for those LGBTQ singles who want serious commitment. Using an activity-based algorithm, members — which the site refers to as 'Berkeys' — are paired with those who share interests and passions. If you're a foodie who prefers tasting menus over burgers and beer, you can find like-minded culinary lovers. Or, if you can't get enough of gym time and adopt a keto lifestyle, you can find someone to lift with you.
This is a big shift away from apps like Grindr that focus heavily on sexuality and shirtless selfies. Often times, gay males will find a match and meet up for an quick romp within a few hours. Though there's nothing wrong with this type of lifestyle if it's fulfilling for you, many guys want a boyfriend — not a friends-with-benefits. Berkey encourages members to foster a connection — rather than a quick fix. In an interview with Men's Variety, co-founder Matt Johnson explained the inspo for Berkey was derived from his own frustration.
As he put it, it's tough to go beyond a one-night stand for many gay male bachelors. "Our current gay culture is largely oriented around sex which is undeniably an important part for us both physically and socially, however most of us do admit relationships build around hook-ups tend to be shallow and fall apart easily," he shared.
You won't be able to exercise your thumbs in the same way with Berkey, since Johnson shared they purposefully made profiles more in-depth to avoid mindless matches. Also in an effort to build those butterflies and romance, Berkey only allows you to talk with those who are interested in you — and offers an easy way to report creeps who use the site for one thing only.
One of the coolest features is the ability to see who is around you right now. This makes finding a brunch buddy or a hiking mate easy and fast. Though there are still plenty of kinks being worked out and the user base is building, for those LGBTQ folks who are tired of the games, it's worth a download.