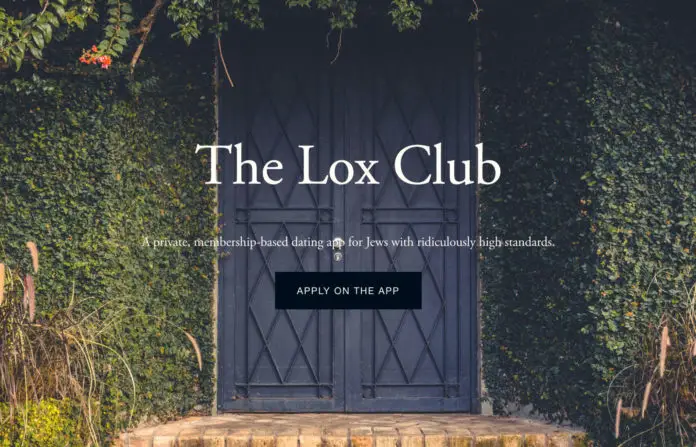 Anyone who has made a round trip tour of today's most popular dating apps understands the importance of services vetting members to get better matches. eHarmony used to have a 450 question long survey that members filled out in order to get a complete sense of personality and compatibility (their questionnaire now takes only 10 mins, but still remains quite comprehensive)
Over time, in spite of best efforts, many dating apps have still been overrun by those who seek to oversell their looks, accomplishments or endowments, or flex about careers, social status and followers. Not only do you need to sift through this murky sea of interests and false compatibility flags, you also need to swim through a cesspool of obnoxious ego. Welcome to modern dating apps. Oy vey.
Not so fast say the folks at a new LA based Jewish dating app called The Lox Club, who think they've figured which side of the dating bagel needs to be buttered (ok, of course not buttered). This exclusive service is all about detailed–and we mean detailed, vetting, including reviewing social profiles online, looking for mutual friends, and generally digging around in all areas of a candidates life. Above all: effort, vulnerability and authenticity are rewarded with access.
"The Lox Club is for people who wouldn't normally be on dating apps. I've only been on two apps and they made me cringe. Our users feel the same way about what's out there." said founder and CEO Austin Kevitch in an interview with Forbes
This level of vetting by its very nature means this app is exclusive. As of December, The Lox Club had only 10, 000 members approved, and has a wait list of over 20,000. A small group of dedicated and uncompromising team members diligently works through the list
Fame and fortune will not in any way fast track your acceptance in the Lox Club, but authenticity is a currency that converts: "Don't pretend to be a billionaire with a private jet. If you're a 23-year-old intern, that's cool. Just be you. It's not meant to be a resume." Kevitch says.
Once accepted, the platform has three tiers of pricing and services that are as comprehensive as their application process. For example: The Lox Club has an In house personal liaison to help build profiles and select photos, again with a focus on authenticity. "Photos that depict what you actually look like are very important," says Kevitch.
Though The Lox Club currently has an address only in the virtual world, Kevitch plans to eventually make the club live IRL, emphasizing face-to-face experiences, fun and games and of course, meaningful matches.
Visit The Lox Club for more information, and prepare to be vetted.