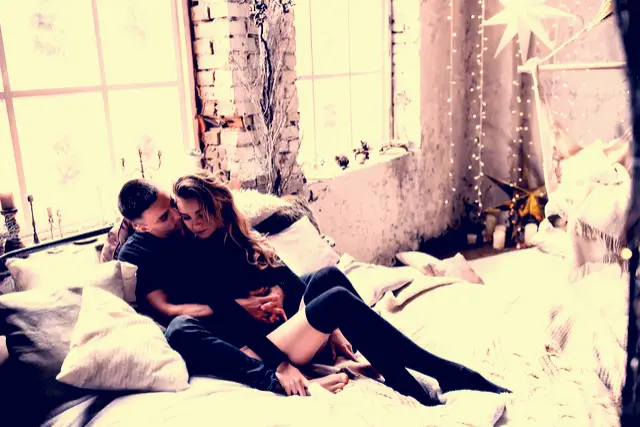 There's a reason why memes about baby booms circulate Facebook during a mighty blizzard. A mountain of plush snow on your lawn, ice on your driveway and a log on the fire and there's some NSFW thoughts in the air. If you and your number one are stuck indoors, one of the most effective (and ahem, fun) ways to stay warm, keep your heart rate up and beat those winter blues is to have copious amounts of sex. Yes, and yesssss.
Sex expert and educator Hunter Riley says this type of R-rated activity is also a natural, innate stress reliever, especially when you're struggling through a hectic holiday season or feeling pressure to keep those New Year resolutions you made. No matter if you've been with your partner for a decade, or you're still in the honeymoon stages of romance, consider this your bucket list to get through with each weather forecast:
Get out of your rut.
When you're in one of those uber-committed relationship, it's safe to say you know your partner's body as well as you recognize your own. You anticipate their points of pleasure, you can predict when they aren't going to be in the mood and you know how to get 'em to climax with this move, that move—and bam. While sometimes quick-wins in sex can be beneficial when you're pressed for time, Riley urges couples to focus on the long game came if you're snowed in. It seems basic enough in terms of advice, but try something new. Perhaps it's a position you've been thinking about but didn't want to try. Or, you haven't successfully 69ed—apart from a quick warm-each-other-up foreplay—in a while, and it's time to dive in. Riley says when you have the luxury of time, you can be bolder than you normally are together. And hopefully, more patient.
Set the scene.
The weather outside is frightful, so why wouldn't you make the fire inside delightful? There's plenty of puns to be made of that lyric, but creating the scene for romance can make it that much more stimulating and sensual with your partner. If you don't have a fireplace, couples psychologist Dr. Sarah Schewitz suggests getting creative with scented candles. "These can warm up a room and they provide that seductive flicker of light that makes everyone look and feel sexy. Not into real fire? Get LED candles for the same lighting effect or even a portable electric fireplace," she recommends. You can even play soft music and leave the curtains open, since hey, snow is a nice barrier to prevent wandering eyes.
Explore your fantasies—and use toys.
If you have the whole house to yourself, the WiFi is out and you're stuck twiddling your thumbs and figuring out what to do next, sexpert Coleen Singer has an idea: explore your fantasies… throughout the house. "Snowed-in days and nights are perfect for trying out some BDSM scenarios, exploring role playing fantasies and playing with your collection of sex toys that you may have not used for a while—well, together at least," she explains. If you're new to massagers or other good vibes, start with a stimulator for her. The Satisfyer Pro can be applied directly to her most sensitive areas while you penetrate her, intensifying her orgasm.
You might also let your trail of pleasure trek through the house—from the shower to the couch and the countertop, you can clean later, but now it's time to play. Even when the sun finally decides to come out and you aren't trapped behind your front door, you'll have the memory of what happened on that loveseat to put you in the mood.
Use sex as a way to work out.
If you usually run outdoors or you make it to the gym, one way to ensure you never miss a workout is to have sex. Sex and relationship therapist Courtney Geter explains in general, sex is a healthy avenue that provides surprising benefits. "During the winter, our physical activity may decrease due to weather conditions or changing social habits. Sex during the winter is one way to increase your physical activity which can improve mood," she explains. You can even make it a 'partner workout' by challenging one another to work harder, try difficult positions or last longer. Together, you can reach the end goal—and burn some calories in the process.
If you want to exercise even more, Dr. Schewitz suggests playing in the snow together—sledding, shovelling, tubing, you name it—and then peeling off those layers as soon as the door slams behind you.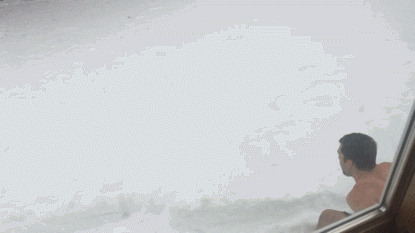 Use more lube.
When the temperature drops, you likely load up on lip balm and hand cream to ensure you stay hydrated. But—er—you might not realize everywhere needs a little TLC. Riley recommends using your time indoors together to lube up everywhere. Not only does this make for a sexy slip-and-slide experience that decreases friction and increases pleasure, but it'll help give your thirsty skin what it's craving, too. Riley says to be wary of drugstore lube since it has glycerine, which will leave you feeling sticky and tacky. "A water-based lube is great for feeling wet and moist, while silicone-based lube is slick and long-lasting. It also works well for playing in the water," she adds.
Come up with a game.
In addition to role play or spending your sexual toy budget, Geter also recommends using the time inside to add depth to your R-rated activities. After all, sex has a way of cementing and bonding a couple, and you can carve some of your snowed-in activity away from pure sex and more lovemaking. How so? With an intimate game.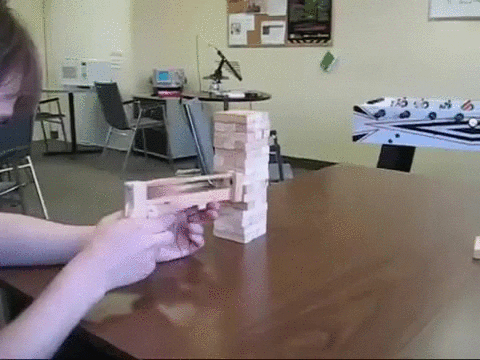 "This is also a good time to better connect with your partner on an emotional and physical level. You can create a game that includes sex to better learn about your partner, yourself, and add pleasure and excitement into the relationship. Simple game options are a striptease or dancing with your partner," she explains. Another game she recommends for couples is using Jenga blocks to write questions or directions. "During the gameplay, the person answers the question or follows the direction after pulling the piece," she shares. "It's a fun way to talk and play at the same time."