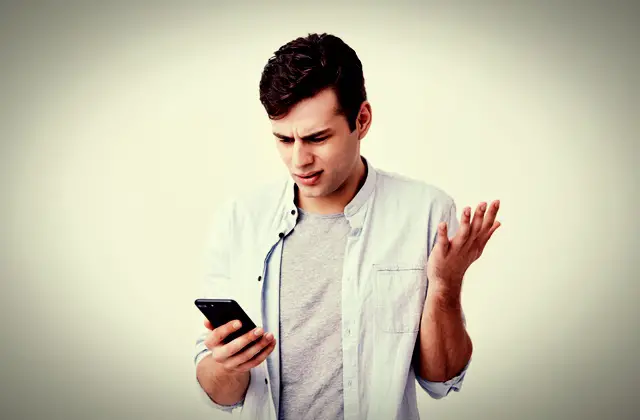 We hate to break it to you, but gone are the days when 'ASL' is the only shorthand needed to chat with people online. While simply asking for someone's age, sex and location was enough to strike up a conversation on Insta Messenger, modern dating involves plenty of abbreviations, all designed to help you weed through endless matches. Though in theory it's supposed to make searching, matching and mating easier, it can be a hindrance if you're not schooled on the latest-and-greatest lingo. "The vocabulary for dating site acronyms seems to be changing on a daily basis. Singles are posting and chatting in text talk, and that includes definitions and acronyms that you need to be aware of before you start responding to 'BDSM' if you aren't into that type of relationship," online dating expert and coach Julia Spira warns. 
Before you dip even a pinky toe into the wild-wild-west of internet matching, study up on these terms that you'll definitely come across on your favorite dating site:
What is D/S?
 Nope, not a video game system or your internet provider, Spira says D/S stands for Dominant/Submissive. "While this type of relationship has been around for decades, if not longer, the book series and films, FiftyShades of Grey brought this to the forefront of relationship types," she explains. When someone has this on their profile, it means they are in the market for someone to join them in this type of set-up. If you see 'D looking for S' or 'S looking for D' — you can respond accordingly. 
What is NSA?
Wouldn't it be cool if this was the way members of the National Security Agency revealed they were single? There is likely an app for those singles that no one has access to unless you're among them, but for the rest of us, NSA stands for No Strings Attached. You might also see FWB (friends with benefits) which is basically the same agreement: we'll get kinky, but we aren't dating. "Someone listing this on their profile isn't looking for aa committed relationship, and is likely to have you in rotation with other casual sex partners," Spira shares.
What is BDSM?
Ready to have some fun? If so, BDSM may be an exciting planet that's yet to circle in your solar system. Spira explains this stands for 'Bondage and Discipline, Dominance and Submission, and Sadism and Masochism or Sadomasochism.' Yep, it's a long one but it's meant to cover a vast variety of various bondage and sometimes, degrading, sexual acts. You can consider it the X-rated version of D/S. "It's an erotic game playing that can be painful, and one needs to know the rules before agreeing to try it out," Spira shares.
What is DTE?
Not to be confused with DTF (down to f*ck) — this one is a little softer. It stands for down to Earth, which as you may gather, is a way to describe yourself as low-maintenance. For those looking for love, it's a positive term that attracts plenty of singles. However, through a sexual scope, it can also mean Down to Everything, according to Spira. "This means bring on the kink and start to try a new position, toys, and it can include talking dirty to your partner during sex, and more," she explains.
What is SI?
What is one of the most important qualities of a lasting relationship? Being with someone who shares at least some of your hobbies or passions. Spira says this simple two-letter abbreviation means just that: 'Similar Interests.' "Whether you're looking for someone with similar interests such as activities like beach volleyball, or similar interests in the bedroom, this acronym is not solely sexual related," she shares.
What is TG?
As Spira notes, today's variety of sexual identities can sometimes be confusing to describe online. After all, you're not face-to-face so you can't read signs or clues. When a potential match places 'TG' on their profile, it stands for transgender, which means someone's current gender is not the same as the one they were born with. They may be at various stages of transition, and could or could not be open to talking about one. As with anyone, it's important to be kind and accepting. "It's a big decision to become a Transgender, so if you meet one, respect their decision and decide if you're game," Spira recommends.
What is TLC?
 Maybe they really, really love watching the ridiculous shows on TLC? Eh? Nah, not so much, rather they are looking for real, true, amazing, all-in type of love. Spira says this term is exactly what you think it means: Tender Loving Care. "Someone who posts this in their profile is looking for a kind person, has been through the ringer with bad dates, and is looking for someone who will be gentle on them, both physically and emotionally," she explains. Unless you have pure intentions, don't waste this healing person's time. 
What is VBD?
 If you rack your brain, you may remember the children's book Alexander and the Terrible, Horrible, No Good, Very Bad Day. The cliffnotes is well, a little boy Alex couldn't get a thing right for a solid 24 hours and yet, came out on top. Spira says anyone who puts this on their profile means they may not be in the best headspace, since they just experienced a crappy experience. It's also something you can add if you want to be clear you're only looking for someone to bring joy to your life, and not complications. Spira says you can also respond to someone who is being rude online with VBD, even if you've never met him or her. "A very bad date can set you back, but let that just be temporarily, because  meeting someone who is a VBD means you just dodged a bullet. Unmatch them, lose their number, and walk away with your head held high," she shares.
What is W?
There are a few things this can represent, with the most obvious being 'White'. Spira says you may see iterations of this you recall from the 90s or 200s like SWM or SWF (Single White Male and Single White Female, respectively). The same is true with BWF or BWM, to indicate members of the black community. Just to make matters more complicated, Spira says W/ (note the slash!) can mean widowed with children.